J. Linn. Soc., Bot. 9: 246 (1866); Lichen filix Sw., Meth. Musc. 36 (1781); Lobaria filix (Sw.) Räuschel, Nomencl. Bot. 329 (1797); Platisma filix (Sw.) Hoffm., Descript. Pl. Cl. Crypt. 3: 1 (1801); Sticta filicina Ach., Methodus 275 (1803); Stictina filicina (Ach.) Nyl., Syn. Meth. Lich. 1(2): 349 (1860). T: New Zealand, s. loc. [probably Dusky Sound], G.Forster; lecto: UPS-THUNBERG 29191, fide D.J.Galloway, Fl. New Zealand Lichens 555 (1985).
Thallus palmate, irregular, 2–10 (–20) cm wide, to 8 cm tall, arising from a rooted holdfast, from which a terete to ±canaliculate or flattened stalk develops; stalk red-brown to black, 'woody', 5–10 (–20) mm tall, to 4 mm wide. Lobes very variable, 1–3 (–15) mm wide, either forming a single main stem from which lateral and smaller secondary branches arise, or forming several primary branches which in turn proliferate into finer lobes at apices; branching polytomous; margins highly dissected-incised, rather ragged or proliferating into phyllidia. Upper surface pale grey-green to olivaceous when dry, bright green to olive-green when wet, uneven, undulate to minutely pitted or dimpled, canaliculate centrally, fragile. Phyllidia common at margins and apices, simple to 2–3-branched, constricted at base,
2–3 mm tall. Photobiont green. Lower surface pale cream or whitish, glabrous at margins, tan to brown to ±blackened and distinctly costate-ridged centrally, glabrous or uniformly short-tomentose from margins to centre. Cyphellae pin-prick-like; margins slightly swollen; central pore very narrow; pit membrane white. Apothecia rare, scattered, submarginal and laminal, sessile, 0.5–2.5 mm diam.; disc red-brown to dark brown; exciple pale buff, minutely scabrid. Ascospores fusiform, 1-septate, 28–33.5 × 6–8 µm, colourless.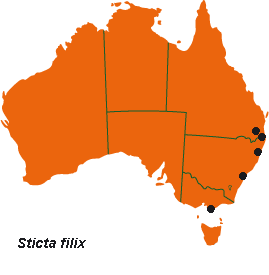 Rather rare in Australia on mossy rocks in shaded, humid habitats in rainforest in south-eastern Qld, eastern N.S.W. and southern Vic.; usually at altitudes of 100–1400 m, rare at sea level. Also occurs widely in New Zealand.