Council of Heads of Australasian Herbaria
Australian National Herbarium
Biographical Notes
Portrait 1950's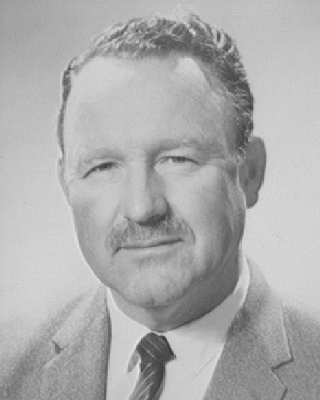 Lindsay Dixon Pryor (1915-1998)
(born in Moonta, South Australia on 26 October 1915, died in Canberra, 17 August 1998)
He was educated at the University of Adelaide and the Australian Forestry School in Canberra. In 1936 he was appointed an assistant forester in the ACT.
He was Superintendent, later Director, of Parks and Gardens for Canberra from 1944 to 1958. During this time he was also carrying out basic research in eucalypt hybridisation.
He supervised the early development of the Australian National Botanic Gardens from 1945 till 1958. He initiated plantings at the present site of the Gardens and its Annexe at Jervis Bay and an Alpine Annexe at Mt Gingera, which has since been abandoned.
Lindsay Pryor's interest in Australian native plants provided a basis for the Gardens' current policy of focusing its collections on native plants and established the framework of the Gardens' living collections.
Lindsay Pryor was appointed Foundation Professor of Botany at the Australian National University in 1958. He retired in 1976.
He was a member of the first Advisory Committee for the Australian National Botanic Gardens in the 1980's, and officiated at the launch of the 'Friends of the ANBG' in 1990.
On 22 October 1995 the Friends paid special tribute to Lindsay and his contribution to the Gardens by unveiling a plaque in his honour beneath a tree of Eucalyptus pryoriana, just below the Rock Garden.
Lindsay Pryor will be remembered for the many facets of his professional work. He was a fine lecturer and many first year students in the Botany Department of the ANU will have been inspired by his introduction to plant science.
He was a notable Eucalyptus specialist and his early work on breeding systems set the standard for modern research in Australia's best known group of plants. This work reached its fulfilment in his much quoted, collaborative book with Lawrie Johnson, 'A Classification of the Eucalypts' published in 1971. Just about every subsequent paper on Eucalyptus cites this seminal work. Pryor followed in the great tradition of eucalypt specialists from Mueller, Maiden, and Blakely to Johnson.


---
Australian National Herbarium - updated 14 November, 2007 by webmaster (cpbr-info@anbg.gov.au)
---