Merry Christmas
Issue 24: December 1999
CPBR NEWS
News from the Centre for Plant Biodiversity Research, Australian National Herbarium (CANB), for the information of CPBR and ANBG staff and volunteers.
CPBR News is produced monthly. If you wish to contribute, please email your suggestions to Suzie Dietrich, the coordinator.
Suzie Dietrich: ph (02) 6246 5533; fax (02) 6246 5249; email: suzie.dietrich@pi.csiro.au
1. Herbarium and Services
1.1 2000 Student Botanical Internship Program
Places for the 2000 Program have been finalised, with 17 Interns expected to start the course in January. By the time you read this, our early starter, Sue Fletcher, will have completed her week of work assisting in mounting, Identifications and Loans. She will be back in January along with 16 other eager starters.
As alluded to in one of Jim Croft's weekly reports, Bob Makinson, Andrew Lyne and myself spent a day in the field mapping out the route for the Intern fieldtrip to Jervis Bay. This proved quite successful and, barring any teething problems, should be a worthwhile exercise. The next major planning obstacle is deciding how many pallet-loads of food we will need to feed staff and Interns over four days. Numerous trips to the Home Brand aisle at Woolies are planned...
The 15th (and hopefully final) version of the Work Program for the 2000 course has been placed in the tearoom, and copies distributed to various key staff. Suggestions for further changes or amendments to the Program will be greeted with derision and contempt from the frustrated SBIP co-ordinator. Staff are reminded that they are welcome to attend any of the lecture sessions organised as part of the Internship Program - just let me know beforehand so that I can organise any extra seating that may be necessary.
[Brendan Lepschi]
2. Research Groups
2.1 Workshop on 'Threats to the Cumberland Plain Woodland'
In early December, Tony Willis and Richard Groves travelled to the Mt. Annan Botanic Gardens, near Campbelltown, where they coordinated and spoke at a day-long workshop on threats to the Cumberland Plain Woodland (CPW). This unique ecological community once extended from Paramatta west to the Hawkesbury/Nepean River, south to Camden and north to Windsor, but now is limited to ca. 6% of its original distribution, principally because of the urban development of western Sydney. In August 1998, the CPW was the first ecological community to be listed federally under threatened species legislation. Threats to the continued survival of the community include ongoing habitat loss & fragmentation, weed invasion and inappropriate fire regimes, among others. While Tony spoke on weed impacts on floristic biodiversity, others covered the history and ecology of the CPW vegetation, management options for the community (particularly the appropriate use of fire), ex-situ conservation of CPW species, and urban pressures on remaining CPW fragments. The workshop, funded by the Weeds CRC, was supported enthusiastically by an audience of National Parks rangers, various bush care groups, environmental consultants and interested local community groups and individuals - the very people that we targeted when organising the day, given that they have ultimate responsibility for managing the community. At the end of the meeting we were pleased to hear one National Parks officer call for a similar, follow-up workshop to be held next year --- but relieved when he agreed to take on the responsibility of organising it!
[Tony Willis & Richard Groves]
Dampier 300 - Biodiversity in Australia - 1699–1999 & beyond
This wide-ranging systematics and conservation conference hosted by the Australian Systematic Botany Society, Society of Australian Systematic Biologists and the Invertebrate Biodiversity and Conservation group was held in Perth early December. The meeting was attended by c. 150 people and Rogier de Kok, Judy West, Bernard Pfeil and Lina Juswara represented the Centre.
The proceedings were a mixed bag as usual and incorporated a good deal of historical material relating to Dampier and overview papers of particularly Australian plants and invertebrates. Interestingly, there were very few vertebrate papers or posters. An unbiased opinion is that the plant systematics sections were overall of high quality and with good results!
Rogier presented an invited overview of legume systematics (pea flowers) in Australia (co-authored with Mike Crisp) and Lina presented her results of the Hibiscus project she researched for her Graduate Diploma.
I have put my copy of the program and abstracts on the new journal rack in the library if you want to have a look at the content.
[Judy West]
At the Dampier 300 Symposium held in Perth recently, the burning question: Is there life 3 km below the Australian surface? has been answered. Nanobes small (20-150 nm in diameter) fungi like organisms have been reported recently from Triassic and Jurassic sandstones. This talk (together with the talk about the Dutch history of Shark bay) was for me the highlight of a very mixed symposium. Most of the (graduate) student talks were interesting and very well presented. The sessions on conservation, co-evolution and biogeography were interesting as well, but from the reactions of the people who went, I was glad to have missed some of the IT talks.
[Rogier de Kok]
This is my second experience attending a conference in Australia. The meeting was quite interesting for a graduate student like me to see a lot of good research, especially from other graduate students around Australia. This showed me how much effort has been spent by those students to produce a good product of research in a certain time. At the same time an appreciation came from people to students' supervisors of how well they had transferred knowledge to some students who might or might not have much experience before.
On the post-conference field trip to south west of WA, I found some participants came from overseas such as Europe, America, Hawaii and Israel. They were very keen to see plants, animals, including insects. They adored them a lot. I could not even account how many rolls of film they spent for a four-day trip. I looked a their act while they were taking photos of a very small orchid plant and a pitcher plant. It was a very enjoyable time for me to see some other perspective of people, especially scientists in botany and entomologists while they are away from their jobs.
[Lina Juswara]
3. Information Technology and Data Management
3.1 WWW Site
The URL for the Centre can be found at: http://www.anbg.gov.au/cpbr
Please check regularly for new items of interest re Centre staff and activities.
4. Education and Communication
5. General Centre Matters
5.1 Fumigation - 24th December
Fumigation of the Herbarium will begin on Christmas Eve. Please make a clear space on benches under windows as these areas will be given a burst of surface spray. Also please leave cupboard doors and drawers slightly open to allow penetration of fumigant. Joan Graham will be delivering plastic bags and sheeting to cover sensitive equipment prior to fumigation.
All staff should vacate the building by 2.00pm and head home for a
VERY MERRY CHRISTMAS
The Herbarium will be reopened on Monday, 27 December from 12:00 noon.
[Joan Graham]
6. Other News
6.1 Australia - 300 Years of Botanical Illustration
Many of you will have seen or bought copies of Helen's book "Australia - 300
Years of Botanical Illustration". She is to be congratulated on her efforts; it has certainly fulfilled the aims of our initial ideas and she has pulled together the diverse information into a book that not only has great illustrations included but is also a good read. Apparently it is selling very well.
Imagine what Helen is going to do NOW in her retirement!
[Judy West]
At last the book has become a reality. A second launch was held in Perth hosted by the Centre at the Dampier 300 Conference with Alex George doing the honours. This was a very pleasant and friendly occasion (being less "posh" than the Melbourne launch). The Dampier tricentenary provided a very suitable time for the publication of the book because plants collected by William Dampier in 1699 were the subject of the first published illustrations of Australian plants.
Alex George, who has a great sense of history, had been very instrumental in several activities to commemorate Dampier's Voyage in the Roebuck. This included the publication of a book - William Dampier: Australia's First Natural Historian (Blooming Books, Hawthorn) - which I recommend to you. In addition to the Dampier 300 Conference Alex also helped facilitate an exhibition of Dampier's natural history achievements at the WA Museum. Both plants and animals are on display until early next year. In conjunction with the conference Alex arranged for a pre-conference flight to oversee the landing place of Dampier at Shark Bay on the north eastern shore of Dirk Hartog Island. I went on that flight and had confirmed for me the inhospitable front that Australia presented to the northern hemisphere explorers and traders. No small wonder the Dutch were not interested in their New Holland. A barrier of 200 kms of unbroken cliffs from Shark Bay south to Kalbarri, and no overt evidence of fresh water. Moreover the vegetation did not include plants of any commercial interest.
[Helen Hewson]
6.2 ABRS Publications
Two recent ABRS publications are available to staff and committee members.
Australian Rushes. Biology, Identification and Conservation of Restionaceae and Allied Families by K.A.Meney & J.S.Pate.
An account of Australian Restionaceae, Ecdeiocoleaceae and Anarthriaceae, almost 150 species in 34 genera. Each species is illustrated with magnificent line drawings by Ellen Hickman, and there are full descriptions of each, including details of morphology, ecology, affinities conservation status and anatomy. there are extensive introductory essays on morphology, classification, anatomy, response to fire, seasonal growth & nutrition, seed reproduction & germination ecology, fungal and insect diseases, conservation, and propagation. 284 x 210 mm, 496 pages, hardbound, numerous illustrations. RRP $95.00 from UWA Press.
Lichens of Rainforest of Tasmania and South Eastern Australia by G.Kantvilas & J.Jarman.
The cool temperate rainforests of the Southern Hemisphere are noteworthy for the remarkable diversity and luxuriance of their lichen floras, and Tasmania is endowed with a rich and complex array of lichen species. This book provides an insight into this realm of beautiful and unusual organisms. Only macrolichens are included. More than 200 species have been recorded from Tasmania, and 127 are illustrated in this volume. There are keys, descriptions and statements on ecology. The introductory chapters provide a user-friendly introduction to lichens designed for the amateur naturalist and community groups. For more advanced users there is a key to species and detailed glossary. 147 x 210 mm, 212 pages, approx. 240 colour photographs by Bruce Fuhrer, soft cover. RRP $39.95 from ABRS.
If you need more information please ask for a brochure.
[Tony Orchard]
6.3 Summer Students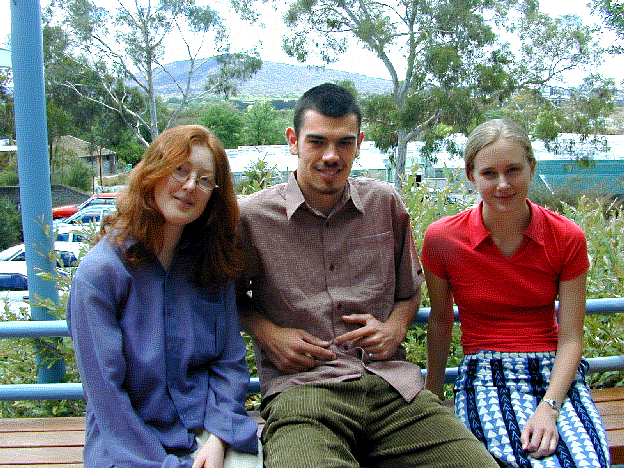 This year's Summer Students: Catherine Gallagher, Daniel Falster
and Rose Andrew.
We have three Summer Students working at the Centre for a period of 10 weeks from December 1999 to February 2000.
Catherine Gallagher is working on "An examination into the evolution of Pultenaea juniperina (Fabaceae)" with Rogier de Kok as Supervisor.
Daniel Falster is working on "The spatial dynamics of rarity in understorey plants: patterns and processes" with Brad Murray as Supervisor.
Rose Andrew is working on "Molecular systematics of the Australian Phyllodinous Wattles (Acacia sp.)" with Joe Miller as Supervisor.
6.4 Christmas Wishes
I would like to wish everyone working with the Centre a Happy Christmas and a productive New Year.
It seems to me that we have had a busy 1999 and that individually and collectively we have achieved an amazing amount, notwithstanding a few glitches along the way.
The new Centre Agreement, ratified by the Board this week and coming into effect from 1 January 2000, provides us with the underlying support to work together and to harmonise further our linkages for a stimulating start to the new Millennium.
I am aware that many of us need to recharge the batteries and to rest the grey matter, so please enjoy your break and I look forward to seeing everyone back on deck feeling refreshed.
[Judy West]
Diary of Events/Activities
Date

Event/Activity

Who

Details (relate to projects)

Sep 1999 –

Feb 2000

Visiting Scientist

Professor Don Les

Professor Don Les, University of Connecticut, is spending approx. 5 months sabbatical leave working with Randy Bayer on Gnaphalieae (Asteraceae) and seagrasses. Professor Les has a Fullbright Senior Fellowship.

Nov 1999 -
end of Feb 2000

Visiting Scientist

Dr Brian Murray

Dr Murray, University of Auckland, is working with Andrew Young on analysis of genetic structure in Metrosideros excelsa (a New Zealand tree species subject to habitat fragmentation) and the cytological analysis of Rutidosis populations.

24 Dec

Fumigation

All staff should leave the building by 2:00 pm.

Dec 1999 –

Dec 2001

Visiting Scientist

Dr Anita Davelos

Dr Davelos will work in our labs for two years with Jeremy Burdon on the interaction of host and pathogen mating systems in Melampsora-Linum. Dr Davlos has been awarded a NSF Post-doctoral Scholarship.

4 Jan – 25 Feb

Intern Program

15-23 Jan 2000

Southern Connections Conference, New Zealand

Judy West

The third conference of the Southern Connections Group is to be held in Christchurch.

17-31 Jan 2000 –

Overseas Visit to Nairobi, Kenya and Los Angeles, USA

Dr Tony Brown

Tony will be attending the IPGRI workshop in Kenya and the National Academy of Sciences Colloquium in the US.

1 Feb 2000 -
March 2000

Visiting Scientist

Dr Ulla Carlsson-Graner

Umea University of Sweden. Dr Graner is involved in a continuing research project with Jeremy Burdon and Pete Thrall on host pathogen spatial interactions. She will visit the Centre for 5 weeks and will focus on computer simulation modelling.

6-13 Feb

Overseas Visit to Santa Barbara

Jeremy Burdon

Attend workshop on 'Spatial Ecology of Infectious Disease'.

1-14 Mar 2000

Visiting Scientist

Professor Bruce McDonald

ETH Zurich. Continuation as GRDC Visiting Fellow to look at project with Jeremy Burdon on barley-scald.

July 2000 –
Jun 2001

Visiting Scientist

Professor Brenda Wingfield

Uni of Pretoria, South Africa. Expert in application of molecular techniques to fungal systematics. Will spend one-year sabbatical at the Centre working with Jeremy Burdon on systematics of the Uredinales (rust fungi).