---
---
CPBR NEWS
Issue 69: May/June 2005
News from the Centre for Plant Biodiversity Research, Australian National Herbarium (CANB), for the information of CPBR and ANBG staff and volunteers.
CPBR News is produced monthly. If you wish to contribute, please email your suggestions to Val Oliver, the coordinator.
Val Oliver: ph (02) 6246 5533; fax (02) 6246 5249; email: Val.Oliver@csiro.au
********************
1. Australian National Herbarium
Consensus Census
As a summary report on activity relating to the Consensus Census project we have included the Project Officer's report recently prepared for the ASBS Newsletter. Consensus Census Report for ASBS Newsletter June 2005:
In the last issue Judy West announced the commencement of this project, and promised further information. The project is now well underway, and we plan to provide an update on progress in each issue of ASBS Newsletter. Future reports will likely be more concise than this one!
Organisational structure:
The Consensus Census (CC), as reported by Judy, is a cooperative CHAH initiative, funded in part by the Natural Heritage Trust, through the Commonwealth Department of Environment & Heritage (DEH), with 2 years of funding (beyond the first 2 years, a mechanism will be developed to maintain the CC as a core CHAH project). It will have a Project Coordinator, who will liaise with a Working Group (one member from each State/Territory herbarium) and experts in various groups of plants, to generate a synonymic census of Australian plants. All herbaria will adopt this list as an "agreed national working list" for the Australian flora. All entries on the list will have the agreement of CHAH, but the list will be advisory only, individual jurisdictions are not bound by it in any way, and some may choose to adopt a different State view of the flora for their own purposes.
I have been appointed Project Coordinator of the project. My task will be to ensure that the project stays on track for completion in 2 years, to coordinate the preparation of lists, and circulate them to the Working Group and CHAH for their agreement. I will also be responsible for arranging, through consultation, resolution of any disagreements on what should become the consensus view, for publicity, and for getting the agreed names on to the web via APNI as quickly as possible.
The CHAH Working Group presently consists of the following representatives: Robyn Barker (AD), Alex Buchanan (HO), Dale Dixon (DNA), Ailsa Holland (BRI), Brendan Lepschi (CANB), Terry Macfarlane (PERTH), Neville Walsh (MEL) and Peter Wilson (NSW). Their task is to check the synonymic lists that are generated by the Project Coordinator, refer them where appropriate to their colleagues, and report any matters of concern back to the Project Coordinator. They also have the task of building support for the process in their own jurisdictions and being the local points of contact for what we hope will be many offers of assistance.
Substantial in-kind support is also being received from ABRS through Annette Wilson (editor, Flora of Australia vascular flora volumes), and within CANB the APNI team (Brendan Lepschi, Kirsten Cowley and Anthony Whalen) are also working hard on various aspects of data entry. Jim Croft and Greg Whitbread are managing and developing the esoteric IT details to deliver the CC as part of APNI.
CHAH is the sponsor and final arbiter of the Consensus Census, and have undertaken to adopt it as their agreed (but flexible) position on accepted names and synonyms for the Australian flora. Once the Working Group is satisfied with sections of the Census, that will be reported to CHAH, who will provide final consideration and endorsement.
Progress to date:
One of the conditions of the contract to produce the CC was that the taxa listed on the Commonwealth EPBC Act as Extinct, Endangered or Vulnerable would be dealt with first. DEH have also embarked on a consultative process with the States and Territories to bring Commonwealth, State and Territory Rare & Threatened Lists into harmony, and have asked that the CC be involved in the more nomenclaturally challenging parts of this process.
The Project Coordinator and Working Group have now prepared synonymic lists for all of the (over 1200) EPBC taxa, and about half of these have already been loaded to APNI. The others are still going through the approval stages outlined above, but should be loaded by the end of June.
A lively and cooperative meeting of the Project Coordinator, Working Group, some CHAH representatives, ABRS and the APNI team took place in Canberra on 1–2 June, to review initial progress and lay down operating procedures for the project from now on.
The next stage of the project will involve working through the national flora family by family. Initial target groups are the families of Flora of Australia volume 3 (Hamamelidales to Casuarinales), Proteaceae, and Haloragaceae. Others will be nominated on a rolling basis.
We are also very keen to have researchers and experts in particular groups contribute to the project. This can happen via two main processes. First, it would be helpful if as many experts as possible were to work locally with the Working Group to check draft lists and provide commentary that will improve them. Second, we would be delighted if those with working lists of names and synonyms for any group were prepared to make them available to the CC as starting points for our compilations. Anyone with a list that they are prepared to offer should contact their local Working Group member to discuss it. All contributions to the project will be acknowledged. It should be noted that the CC will only include names (formal or informal) which have been published in some form. It will not be a forum for delivery of novelties. However, it is envisaged that some kind of parallel "Precursor paper" series may be developed to facilitate publication of very short notes, new combinations etc.
Outputs:
The CC will be delivered, incrementally, as a separate view of APNI, and will be an integral part of that database. In effect, it will gradually subsume the existing What's Its Name? (WIN), although that will be maintained as an alternative (tabular) view of the data.
Details of the CC view are still evolving, but at the Working Group meeting it was agreed that it would have the following minimum characteristics:
The "core" view will be a standard Accepted Name/Indented Synonyms format, that most are familiar with from monographs and Floras.
The "full view" will contain additional fields, initially Comments, Common Names and State/Territory level geographic distribution. Other fields may be added later.
A "printable view" will also be available, where all names and synonyms will be arranged alphabetically, with synonyms cross referenced (x = y) to their accepted name. This will be useful for those who wish to print large sections and still be able to find all names easily.
A Chooser screen will be available so that users can customise their reports to a large degree (eg. synonyms shown/not shown, comments shown/not shown, cross references shown/not shown, etc)
Reports will have all names and synonyms hyperlinked back to the current bibliographic view of APNI, so that Comments etc can be checked against references. This will also provide a Source document facility – all names in the CC will be linked to at least one reference in Bibliographic APNI.
There will be some sort of guide on the Home Page detailing which groups have already been treated for the CC. The default for groups still in waiting will be the existing WIN.
Further information about the Consensus Census is provided on the CHAH website at http://www.chah.gov.au/consensus-census/contributors.html. There a continually updated commentary will be provided on progress, and major players/contributors acknowledged.
Synonymy:
One of the major agenda items at the Working Group meeting in Canberra was the question of how to handle synonyms. It was agreed that the success of the CC project will largely be judged on the extent to which we deliver complete synonymies. It was also agreed that we will attempt, so far as possible, to deliver a list containing all kinds of synonyms:
formal (latinised) names published under the ICBN;
formal (latinised) names existing in the literature but not formally published (manuscript names in current use);
misapplied names in at least major works on the Australian flora; basionyms even if foreign; and informal phrase names.
"Foreign" synonyms will not normally be included, except on a case-by-case basis for some key groups (eg. weeds).
For informal (phrase) names it was agreed that these would all be included if coined and published before the end of 2005, in the format in which they had originally appeared.Only major orthographic variants of phrase names will be listed. If a phrase name is required for interim listing (eg in case of conservation) and no latinised published name is available, then a phrase name will be coined in the CHAH/HISCOM style described by Bill Barker in ASBS Newsletter 122: 11–12 (2005). All users/coiners of new informal names are urged to adopt this style in future, and to encourage this, it was resolved that after 31 December 2005, the only new phrase names to be accepted into the CC will be those constructed in the CHAH/HISCOM style. All others will be ignored.
Conclusion:
This is an ambitious and exciting new initiative which, if successfully carried through, will deliver a very powerful working tool for all taxonomists. It will also allow taxonomy to reclaim its rightful place as the discipline underpinning all biological science. I hope all Australian taxonomists will maintain the enthusiasm that has been displayed so far, to the conclusion of "the first pass" through the flora over the next 2 years, and provide a sound foundation for a living document into the future.
[Tony Orchard]
Project Coordinator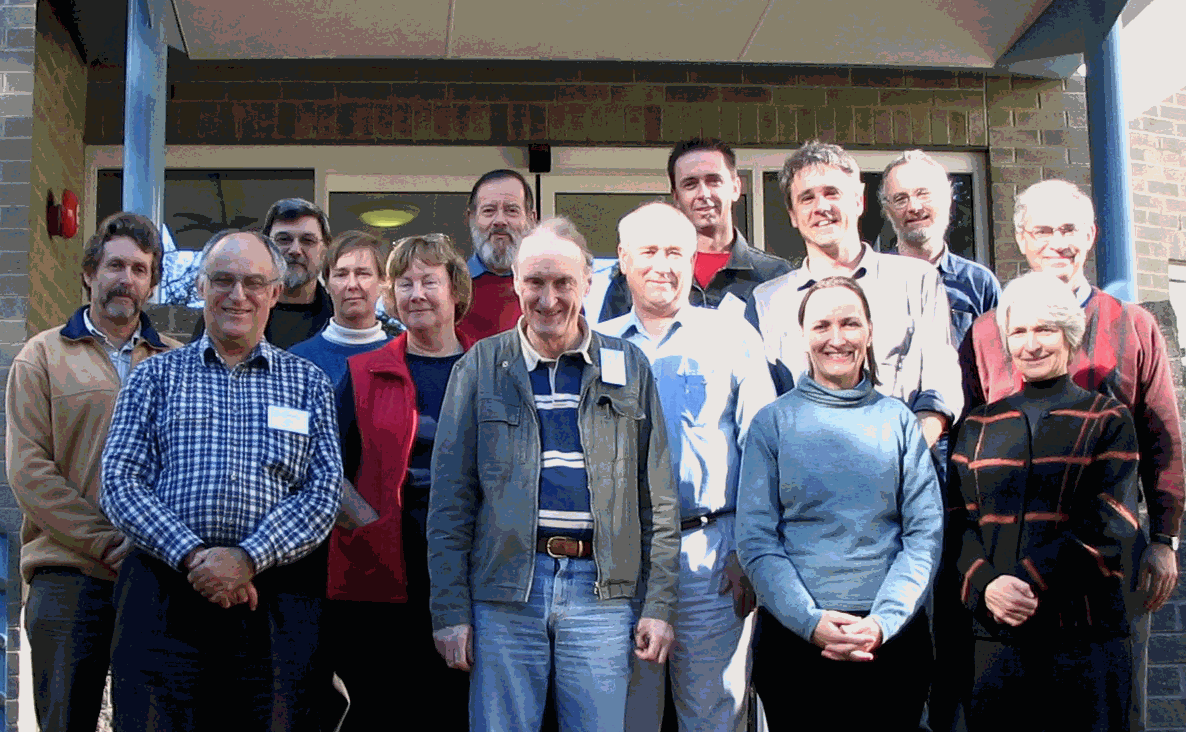 L to R: Greg Leach (CHAH, Darwin), Bill Barker (CHAH, Adelaide), Greg Whitbread, Annette Wilson (ABRS), Robyn Barker (AD), Alex Buchanan (HO), Peter Wilson (NSW), Tony Orchard, Dale Dixon (DNA), Ailsa Holland (BRI), Brendan Lepschi, Neville Walsh (MEL), Judy West and Terry Macfarlane (PERTH).
**********************************************************************************
2. Research
Enhanced re-establishment of native vegetation in saline soils project
Prior to moving to Canberra I worked as a Rhizobial ecologist for a number of years with the Department of Primary Industries at Rutherglen in Victoria. Previous research projects have focused on pulse legumes (GRDC), medics (GRDC), sub clover (AWI) and herbaceous native legumes (CRC DS). In each study the interaction of the plant with the rhizobia has been investigated in laboratory, glasshouse and field experiments.
I have recently commenced work with Peter Thrall as the Post doc in the NAP funded " Enhanced re-establishment of native vegetation in saline soils" project. This project like one of my previous projects is focusing on reversing current trends in dryland salinity. The fundamental basis for a more environmentally acceptable farming system is to increase the perenniality of the systems. This will reduce the current trend of rising water tables and the subsequent increase in dryland salinity. Addressing these large-scale environmental problems forms part of this project and the re-establishment of deep rooted perennial vegetation is one strategy being used to reduce further degradation.
The NAP project will focus on increasing our ability to establish perennial vegetation in salt affected soils using rhizobia (nitrogen fixing bacteria) to encourage seedling establishment and promote plant growth. As rhizobia are living bacteria they are very susceptible to adverse soil conditions and environments like salinity. Selection of rhizobia with salinity tolerance will aid the establishment of perennial legumes, in particular Acacias in revegetation projects.
I will also be providing rhizobial input into the NSW Environment Trust "Using plant-soil interactions to optimise revegetation strategies" project. This project led by Linda Broadhurst focuses on the ecological and genetic interactions between native Australian plant communities and their associated soil rhizobia. This project will firstly investigate the geographic extent of genetic variation in a range of Acacias and their associated rhizobia using molecular approaches, and secondly will assess the importance of local adaptation and provenance in plants and symbionts.Other staff members working on these projects are David Bagnall, Luke Bulkeley, Jacqui McKinnon, Lan Li, Tony brown, John Brockwell and Andrew Young.
[Jo Slattery]
**********************************************************************************
XVIII International Botanical Congress 2011
Australia has been successful in winning the bid to host the International Botanical Congress following this year's Vienna meeting. The congresses are held every six years, so the next meeting is 2011 and will be held in Melbourne at the Melbourne Exhibition and Convention Centre. We have not been able to make much noise about this yet as the decision of the committee to accept Australia's bid is to be ratified at the upcoming Vienna Congress. We have been preparing flyers and material for distribution in Vienna and we are to do some sort of fanfare at the closing ceremony.
The Division is the host institution for the 2011 Congress and we have done some thinking about the science areas that might be included as symposia, etc. This involves some forward thinking to make sure we anticipate the areas of the plant sciences that will be at the forefront in six years time. A number of potential field trips have also been put forward and I am sure many more will eventuate. Since most of the northern hemisphere regard us as "a long way to go", we will need to be smart and to use our strong science and unique flora as a means of attracting participants, so some botanically stimulating field experiences will be a must.This is an exciting prospect and while it may seem a long way off at this stage, and most of you are thinking I've NO idea what I'll be doing by then and others of us will be struggling with our walking frames, it will come upon us pretty quickly. I am sure many of you will have lots of good ideas and will contribute to the planning of this great opportunity for Australia.[Judy West]
**********************************************************************************
3. Centre
Donation by Helen Hewson
The Centre is delighted to accept the donation of a painting by and from Helen Hewson titled 'Yellow Buttons' Chrysocephalum apiculatum (Labill.) Steetz s.l. Murray Fagg has photographed the painting and provided the reduced image below for the newsletter. The painting is currently in the Director's office and will be hung in the Herbarium at a location yet to be decided.


[Val Oliver]

**********************************************************************************
Seminars
The next CPBR seminar is on Wednesday 13 July 2005, 12.30-1.30 pm, in the Australian National Herbarium tea room:
"Conservation-focused studies on some Australian plants at risk"
By: Elizabeth James
Royal Botanical Gardens, Melbourne
**********************************************************************************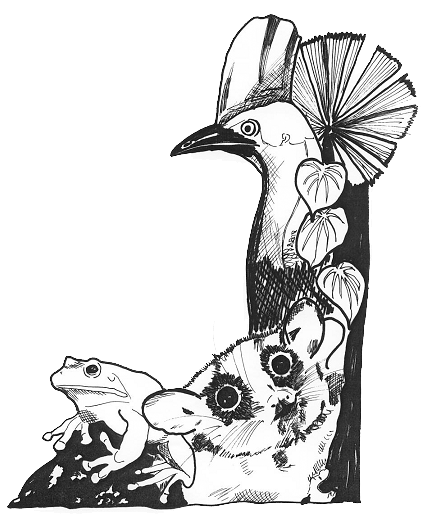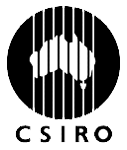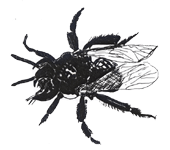 Tropical Forest Research Centre
(Opposite the Atherton High School)
Welcomes you to a
Public Open Day
Celebrating 30 years in your community
Saturday ~ 23 July 2005
10:00am – 4:00 pm
Guided Herbarium / Arboretum Tours (11am; 12:30, 1:30 & 2:30pm)
North Qld Science Education Displays:
Mini Beasts
LEGO Robotics
Quarantine Matters
Videos for kids
Short seminars with Guest Speakers (10:30, 11:30 am, 1:00, 2:00 & 3:00pm)
LUNCH (Burgers, drinks, etc) [all day]
Stuffed animal display;
Bat tracking and much more (all day)
Official Welcome: 12:00 Noon
Contact: 4091 8800
[Rebel Elick]
---
Updated 11 July, 2005 , webmaster, CANBR (canbr-info@anbg.gov.au)
---