Section of Esther by Fiona Pfennigwerth from The Scrolls Illuminated
Current and Coming Exhibitions
News | In flower this week | Holiday activities | Walks

---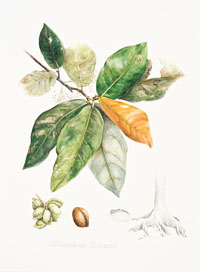 Offshoots I - V
A series of botanical illustrations by Cairns artist, Julie McEnerny, with a special focus on plants of ecological or cultural significance.
When: Friday 25 April to Monday 16 June, 2014
Time: 9:00 - 4:30 daily
Where: Visitor Centre Gallery
---
Story Cloth III
Relationships, family and culture are the expressions in this exhibition by Lyndy Delian.
Lyndy started as a painter where snakes embodying power and creation were characteristic. Animals followed birds, and then plants and people. She now works regularly with screen prints of native bush flowers, birds and animals on silk dupion and vintage Japanese kimono silks. Lyndy also combines screen prints and painting with some of her themes including - 'listen to the wind' and 'pathways' which have become etchings and paintings on glass.
When: Friday 20 June to Sunday 10 August, 2014
Time: 9:00 - 4:30 daily
Where: Visitor Centre Gallery
---
Weaving Circles - Honouring Cultures, Living Traditions

A weaving together of thoughts and emotions into the twists and turns of wool and wheel
An exhibition of circle weavings created by reusing bicycle wheel rims, cotton twine and jute string, wool, fibres and fabrics, crystals, beads, shells, stones and feathers. Presented by the CIT Yurauna Centre.
When: Friday 15 August to Sunday 7 September 2014
Time: 9:00 - 4:30 daily
Where: Visitor Centre Gallery