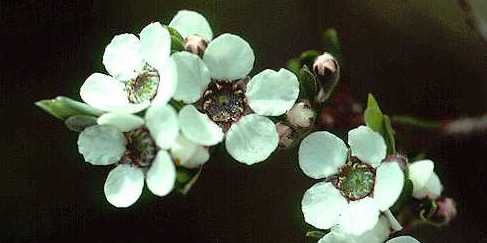 Studies in the Genus Leptospermum (Myrtaceae)
Prepared by Andrew Lyne
---
Commonly referred to as Tea-tree, Leptospermum is distributed in Australia, South East Asia (i.e. the Malay peninsula, Sumatra, Borneo, Java, Philippines, Sulawesi, Thailand, Flores, Moluccas, southern Burma and New Guinea) and New Zealand. Whilst Leptospermum occupies a variety of habitats from coastal dunes to high mountain peaks, it is most commonly found in wet or periodically wet substrates that are acidic and low in nutrient content.
Leptospermum is in the sub-family Leptospermoideae of family Myrtaceae and currently comprises 85 recognized species. The genus Leptospermum was first recognized by Johann Reinhold Forster and his son Johann Georg Adam Forster when they published the name L. scoparium Forst. & G.Forst. in 1776.
George Bentham was the first to treat the genus in his 1866 Flora Australiensis. Bentham recognized 20 species and his comments that the "... species are very difficult to distinguish" and that from "the dried specimens, whether of the species here admitted or of the varieties or races, I have been unable to discover any positive discriminating characters" are evidence of the problematic nature of the genus. Doubtless, some of these difficulties would have arisen from Bentham's broad concept of Leptospermum, which included species now assigned to Homalospermum Schauer, Neofabricia J.Thompson and Pericalymma (Endl.) Endl. In 1983 Thompson reinstated the genera Homalospermum and Pericalymma, described Neofabricia (based in part upon the genus Fabricia Gaertner) and then in 1989 published a revision of the genus Leptospermum. Thompson recognized 79 species with 27 of these being described as new. In 1992 Bean described another two species and clarified taxonomic problems associated with two northern Australian and Malesian taxa. In 1993 Lyne and in 1996 Lyne and Crisp published descriptions of another two new species.
Current research by Lyne and Crisp has identified another new species in north-eastern New South Wales and south-eastern Queensland. A forthcoming paper will deal with this.
This page also contains links to papers dealing with the genus Leptospermum that are part of ongoing research into the genus by Andrew Lyne and to information on the cultivation of the genus.
---

Leptospermum namadgiensis Lyne
Leptospermum namadgiensis (Myrtaceae), a new species from the Australian Capital Territory - New South Wales border area.
[ This paper was published in Telopea (1993) 5(2): 319-324 ].
---

Leptospermum namadgiensis Lyne
Leptospermum namadgiensis - a New Species of Tea-tree from the Southern ACT.
[ This paper was published in the Newsletter of the Friends of the Australian National Botanic Gardens, May 1993 ].
---

Leptospermum jingera Lyne & Crisp
Leptospermum jingera (Myrtaceae - Leptospermoideae): A New Species From North-eastern Victoria.
[ This paper was published in Aust. Syst. Bot. (1996) 9(3): 301-306 ].
---

Leptospermum in Cultivation
[ Information on how to grow Leptospermum with specific information and pictures of those that are commonly grown ].
---
Return to the
Centre for Plant Biodiversity Research
---
Updated by Andrew Lyne
---