Leptospermum purpurascens family MYRTACEAE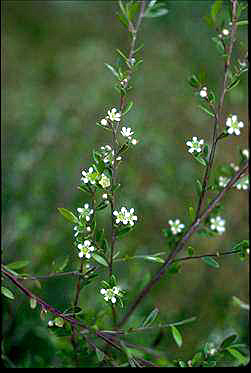 Purple-stemmed turkey bush
Shrub to 4 m high with exposed twisted and gnarled trunks. Smooth bark, light brown at base and peeling from smaller branches to reveal pinks and purples. Leaves are light green, broadly lanceolate, to 2 cm. Tiny white flowers occur in winter.
Distribution: Qld.
Propagation From cuttings or seed.
Cultivation This species will grow in any well-drained soil when ample moisture is applied. It is frost tender but grows well and flowers at Coffs Harbour.
May be used as features.
Attractive bark or trunk.
Suitable for use in tropical areas.
Conservation Status: 2RC-
---
text from 'AUSTRALIAN NATIVE PLANTS, 4th ed'
by Wrigley & Fagg, Reed Books, 1996
---