Christmas Island Botanical Postage Stamps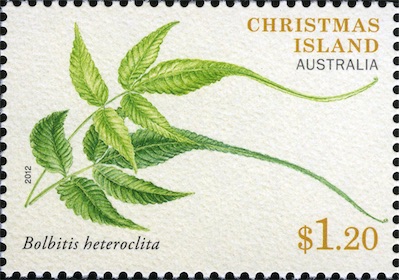 Date of issue: 1 May 2012
Illustrator: Jenny Philips
Printer: RA Printing
Part of a series of four fern stamps.
Plant: Bolbitis heteroclita
Family: DRYOPTERIDACEAE


No common name
This fern is common on Christmas Island forming extensive mats in the rainforest, usually in shaded areas.
It is a tropical and subtropical species distributed in SE Asia from India to southern Japan through Indo-China to the SW Pacific.
It is sometimes grown submerged by aquarium enthusiasts.

---
---