Christmas Island Botanical Postage Stamps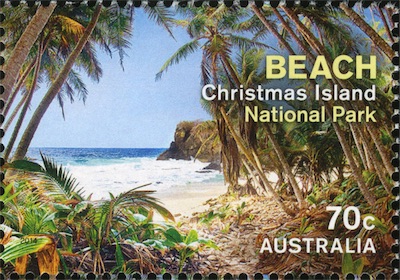 Date of issue: 17 June 2014
Design: Sharon Rodziewicz, Australia Post Design Studio
Printer: RA Print
Part of a series of four Christmas Island National Parks stamps,
only two of them featuring a specific plant.
Plant: Cocos nucifera
Family: ARECACEAE
Coconut
While the coconut is definitely native to Cocos Island, there is some doubt as to whether it is native to Christmas Island or was introduced by European settlers.
This stand in damp sand behind Dolly Beach is thought most likely to be its only truly native occurrence on the Island.
It is now a familiar palm tree through most tropical regions on earth.
---
---