Acacia inophloia
Fibre-barked Wattle
Description: Large, upright shrub to 4 m with loose fibrous, brown bark on main stem. Terete phyllodes to 10 cm. Rod-shaped flowers are brilliant yellow and appear in spring.

Distribution: WA.

Propagation: From scarified seed or boiling water treatment. Seed does not set readily in cultivation.

Cultivation: Generally adaptable in cultivation, responds to sunny, reasonably well drained positions in most soils. Spectacular feature plant in or out of flower. Acacia curranii from Qld. and NSW has similar characteristics but shorter, almost globular flower heads.

Special horticultural attributes:
Frost hardy (will tolerate frosts to -7 C )
Recommended for its foliage.
May be used as a feature plant.
Attractive bark or trunk.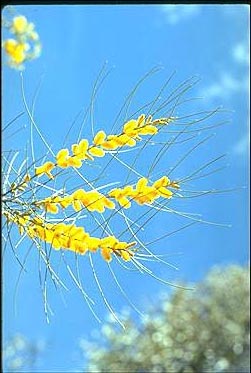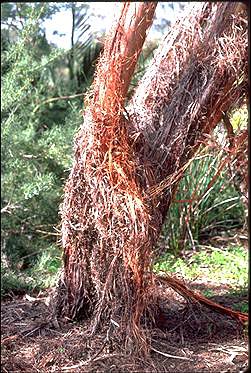 ---
---