Acacia oxycedrus
Spike Wattle
Description: A prickly, dense shrub 1-3 m high by 2 m across, small trees are also known. Rigid, dark green phyllodes to 2 cm with sharp point. Flowers in cream spikes occur in winter and spring.

Distribution: SA, Vic., NSW.

Propagation: From scarified seed or boiling water treatment.

Cultivation: Generally adaptable in cultivation, responds to sunny, reasonably well drained positions in most soils. Excellent hedge plant forming an impenetrable barrier. Useful also for road batters.

Special horticultural attributes:
Suitable for areas of low maintenence (eg. road batters).
Frost hardy (will tolerate frosts to -7 C )
Recommended for its foliage.
Suitable hedge or screen plant.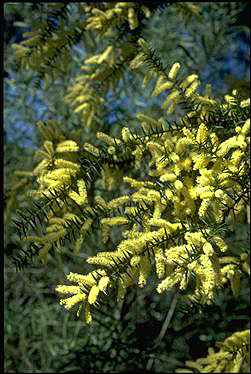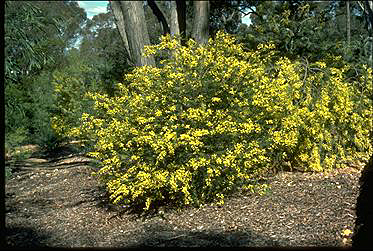 ---
---