Acacia saligna
Golden Wreath Wattle, Orange Wattle
(Previously known as:
Acacia cyanophylla
)
Description: Large shrub or small tree to 10 m, sometimes developing a spreading crown. Phyllodes to 20 cm long and up to 2 cm wide, occasionally bluish. Flowers are large golden balls in spring.

Distribution: WA (naturalized in other States).

Propagation: From scarified seed or boiling water treatment.

Cultivation: Generally adaptable in cultivation, responds to sunny, reasonably well drained positions in most soils. Useful as a tall background plant. Very fast growing, hardy, and resistant to salt spray. Has become a weed in north-eastern NSW and South Africa.

Special horticultural attributes:
Frost hardy (will tolerate frosts to -7 C )
Suitable hedge or screen plant.
Resistant to salt spray.
Suitable for planting in tropical areas.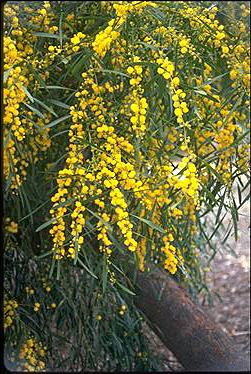 .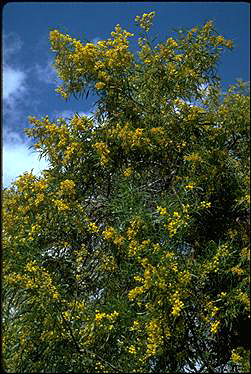 ---
---