Taxon Attribute Profiles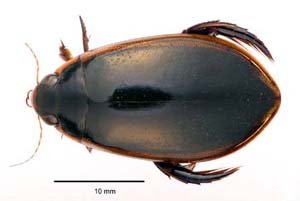 Cybister tripunctatus
Family Dytiscidae
Predaceous Water Beetles
Introduction
Dytiscidae (predaceous water beetles) is one of the largest and most commonly encountered groups of aquatic beetles. Both adults and larvae are predaceous, and will attack a wide variety of small aquatic organisms. Although most species are small to medium sized, some adults can attain a length of 35 mm.
Taxonomy and Ecology
Synopsis of included taxa
Australia has a rich fauna of Dytiscidae, with 226 species in 42 genera (Gooderham & Tsyrlin, 2002). Watts (1978) supplied a revision of Australian Dytiscidae; and Pederzani (1995) provided keys to all dytiscid genera and subgenera for the world. Watts (2002) provided a series of easy to use keys to the genera of both adult and larval dytiscids. A checklist of Australian Dytiscidae is available on the Australian Biodiversity Information Facility website (Lawrence et al., 2002).
General overviews of Australian Dytiscidae, including biological and ecological information, are provided by Lawrence et al. (1991) and Gooderham & Tsyrlin (2002).
Life Form
Dytiscids have a characteristic appearance, and can generally be recognized by having a hard, smooth, oval body, without any ventral spine, having the hind legs flattened and with a fringe of hairs so that it can act like a paddle, and having long, thin antennae. In the water, dytiscids swim by moving their hind legs simultaneously, like oars, while the similar appearing Hydrophilidae alternate the movement of their hind legs.
| | |
| --- | --- |
| Eretes australis | Lancetes lanciolatus |
| Megaporus howitti | Sternopriscus hansardii |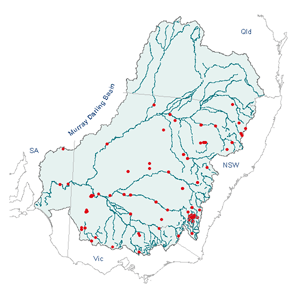 Click to enlarge map
Distribution
Dytiscidae are all aquatic, and are common throughout the continent, with the greatest number of species found in the south-east. Adults are capable of flying to isolated habitats, which has allowed their spread to aquatic habitats throughout Australia.
Habitat
Dytiscids generally prefer slow moving or stagnant water, such as ponds, lakes, billabongs, dams, and pools at the edges of streams. They require atmospheric air, and the adult beetles go to the surface to gather air which they store in a chamber underneath their elytra (wing covers) to enable them to increase the time they can be submerged. Larvae lack this ability, but many species use a siphon in the form of long filaments at the end of the abdomen.
Status in Community
Both adults and larvae are predaceous. The adults are capable of eating through a normal mouth opening. Most larvae do not have a mouth opening, but have long, sickle like jaws which enable them to suck fluids out of their prey items. The larvae will attack animals much larger than themselves, and have been known to feed on other insects, crustaceans, worms, leeches, mollusks, tadpoles and small fish.
Reproduction and Establishment
Reproduction
A variety of mating behaviours occur in the Dytiscidae, and many of them reflect the fact that females are more selective in choosing a mate than males (Miller, 2003). Males have a variety of methods to achieve mating, and in some cases females have behaviours to resist mating, such as swift and erratic swimming when approached by a male. Some males have even developed sucker-shaped setae on the legs which allow them to grab females and prevent them from escaping during mating.
Dispersability
Adult dytiscids are capable of sustained flight, and often travel some distance to disperse and find new habitats. They generally fly in the evening or at night, and they use reflected light from a water surface as a method of finding a new habitat. They can be confused by artificial reflected surfaces (e.g. glass) or lights, and are often attracted to these sources rather than water.
Juvenile period
Adults generally lay eggs in the underwater stems of plants, using their ovipositor to cut the stem to deposit the eggs. Dytiscid larvae are very aggressive predators which attack a variety of prey. Pupation takes place out of the water. The larva forms a cell in damp soil near the water, and the adults return to the water after emerging.
| | |
| --- | --- |
| Hyderodes sp. larva | Hyphydrus sp. larva |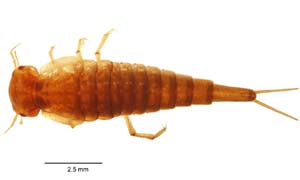 Rhantus sp. larva
Hydrology and Salinity
Salinity Tolerance
Gooderham & Tsyrlin (2002) and Chessman (2003) reported that Dytiscidae as a family are quite tolerant of high levels of salinity. However, Bailey et al. (2003) list several examples of specific dytiscids which have very narrow ranges of salinity tolerance and could be eliminated with minor rises in salinity levels.
Flooding Regimes
Alternating periods of flooding and drought could affect dytiscid populations, which need water for survival. The strong flying ability of adults will allow recolonization of aquatic habitats after periods of drought.
Conservation Status
As with most invertebrates, there is insufficient data on Dytiscidae to discuss conservation status in any intelligent manner. Many species are known from only a few specimens, but whether this reflects insufficient collecting or declining population numbers can not even be guessed at.
Uses
There are no records of Aboriginal use of dytiscids as food, although many insect species were eaten by Aborigines (Tindale, 1966). The large dytiscid Cybister explanatus is used as food in Mexico, where they are eaten roasted with salt and in tacos (Ramos-Elorduy & Pino, 1989).
Summary
Dytiscidae share the characteristics of macroinvertebrates that could make them suitable species for including in programs for monitoring water quality (Water and Rivers Commission, 1996; Chessman, 2003; Minnesota Pollution Control Agency, 2004). As of yet, we lack specific examples of their use in such programs.
List of MDB Species
Table 1. Dytiscidae recorded from the Murray Darling Basin (50 species in 19 genera).
DYTISCIDAE
Allodessus
Allodessus bistrigatus (Clark)
Antiporus
Antiporus interrogationis (Clark)
Antiporus balkei (Clark)
Antiporus femoralis (Boheman)
Antiporus gilberti (Clark)
Chostonectes
Chostonectes gigas (Boheman)
Chostonectes johnsoni (Clark)
Chostonectes nebulosus (Macleay)
Chostonectes sharpi Sharp
Copelatus
Copelatus australiae Clark
Copelatus australis (Clark)
Copelatus ferrugineus Sharp
Cybister
Cybister tripunctatus (Olivier)
Eretes
Eretes australis (Erichson)
Hydaticus
Hydaticus parallelus Clark
Hydaticus pulcher Clark
Hyderodes
Hyderodes schuckardi Hope
Hydrovatus
Hydrovatus armstrongi Watts
Hydrovatus opacus Sharp
Hydroglyphus
Hydroglyphus godeffroyi (Sharp)
Hyphydrus
Hyphydrus elegans (Montrouzier)
Lancetes
Lancetes lanceolatus (Clark)
Limbodessus
Limbodessus amabilis (Clark)
Limbodessus compactus (Clark)
Limbodessus gemellus (Clark)
Limbodessus shuckardii (Clark)
Limbodessus praelargus (Lea)
Megaporus
Megaporus gardeneri Clark)
Megaporus hamatus (Clark)
Megaporus howittii (Clark)
Megaporus wilsoni Mouchamps
Necterosoma
Necterosoma dispar (Germar)
Necterosoma penicillatum (Clark)
Necterosoma undecimlineatum Babington)
Necterosoma aphrodite Watts
Necterosoma susanna Zwick
Onychohydrus
Onychohydrus scutellaris (Germar)
Platynectes
Platynectes octodecimmaculatus (Macleay)
Platynectes decempunctatus (Fabricius)
Platynectes darlingtoni Gueorguiev
Platynectes reticulosus (Clark)
Platynectes ocularis (Lea)
Rhantus
Rhantus suturalis Macleay
Sternopriscus
Sternopriscus alpinus Hendrich & Watts
Sternopriscus hansardi (Sharp)
Sternopriscus tarsalis tarsalis Sharp
Sternopriscus multimaculatus (Clark)
Sternopriscus meadfootii (Clark)
Sternopriscus mundanus Watts
Sternopriscus wehnckei Sharp
References
Bailey, P., Boon, P. & Morris, K. (2002) Australian Biodiversity Salt Sensitivity Database. Land & Water Australia. http://www.rivers.gov.au/research/contaminants/saltsen.htm

Chessman B. (2003) SIGNAL 2 - A Scoring System for Macroinvertebrate ('Water Bugs') in Australian Rivers, Monitoring River Heath Initiative Technical Report no 31, Commonwealth of Australia, Canberra.

http://www.deh.gov.au/water/rivers/nrhp/signal/

Gooderham, J. & Tsyrlin, E. (2002) The Waterbug Book: a guide to the freshwater macroinvertebrates of temperate Australia. CSIRO Publishing.

Kefford, B.J., Papas, P.J., Nugegoda, D. (2003) Relative salinity tolerance of macroinvertebrates from the Barwon River, Victoria, Australia. Marine and Freshwater Research, 54: 755-765.

Lawrence, J.F. & Britton, E.B. (1991) Coleoptera (Beetles). Pp. 543-683, in Insects of Australia: A textbook for students and research workers. CSIRO. 2nd Edition.

Lawrence, J.F., Weir, T.A. & Pyke, J.E. (2002) Australian Faunal Directory: Checklist for Coleoptera: Adephaga: Dytiscidae. Australian Biological Resources Survey, Department of the Environment and Heritage. http://www.deh.gov.au/cgi-bin/abrs/abif-fauna/tree.pl?pstrVol=ADEPHAGA&pintMode=1

Miller, K. (2003) The phylogeny of diving beetles (Coleoptera: Dytiscidae) and the evolution of sexual conflict. Biological Journal of the Linnean Society, 79: 359-388.

Minnesota Pollution Control Agency (2004). Wetlands: Monitoring Aquatic Invertebrates. http://www.pca.state.mn.us/water/biomonitoring/bio-wetlands-invert.html

Pederzani, F. (1995) Keys to the identification of the genera and subgenera of adult Dytiscidae (sensu lato) of the world (Coleoptera Dytiscidae). Atti della Accademia Roveretana degli Agiati, Serie 7 B, 4: 5-83.

Ramos-Elorduy, J. & Pino M. (1990). Caloric content of some edible insects of Mexico. Revista de la Sociedad Quimica de Mexico 34(2): 56-68.

Tindale, N.B. (1966) Insects as food for the Australian Aborigines. Australian Natural History, 15(6), p. 179-183.

Water and Rivers Commission (1996). Macroinvertebrates & Water Quality. Water Facts 2. http://www.wrc.wa.gov.au/public/waterfacts/2_macro/WF2.pdf

Watts, C.H.S. (1978) A revision of the Australian Dytiscidae (Coleoptera). Australian Journal of Zoology, Supplementary Series no 57: 1-166.

Watts, C.H.S. (2002) Checklists & Guides to the Identification, to Genus, of Adult & Larval Australian Water Beetles of the Families Dytiscidae, Noteridae, Hygrobiidae, Haliplidae, Gyrinidae, Hydraenidae and the Superfamily Hydrophiloidea (Insecta: Coleoptera). Identification and Ecology Guide no 43. Cooperative Research Centre for Freshwater Ecology.