Case Studies
French pharmacy booklets
Small colourfully illustrated fungal booklets were available from pharmacies in France during the first half of the 20th century. There were at least two versions of these and they were produced in mass. The two versions differed in their exact content, but the intent and general approach was the same. In each there were 32 pages of text - general comments, warnings and brief descriptions of species - and inside the back cover a fold-out chart showing a variety of common fungi, with the poisonous ones highlighted. There was space on the covers, and inside, to allow different pharmacies to put on their own "brands". Here are covers of these two different versions: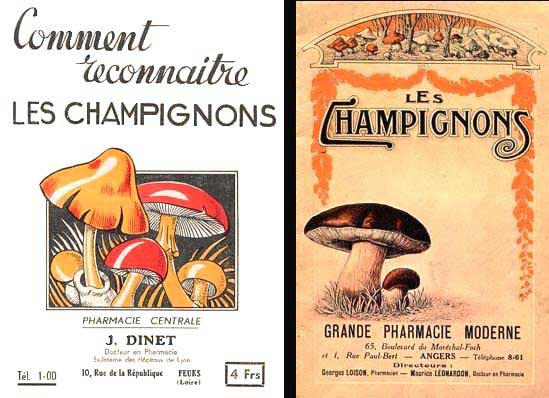 There is no publication date on either of these booklets. Those with covers like the one on the left (titled How to identify mushrooms) are reported to have been on sale during the 1930s and 1940s. Booklets of the type on the right have been reported to have been on sale from around the beginning of the 20th century and well into its first quarter. The one shown here was sold by the Grande pharmacie moderne at Angers in western France. Though undated this particular issue must have been on sale after World War 1. The street name Boulevard du Marechal Foch appears on the cover and it was only in August 1918 that the French general Ferdinand Foch was created a marshal of France. Below are two further booklets in this style, but with other "brands". One, bearing the additional sub-title de la région Audoise, was sold by the Grande pharmacie Taillefer at Carcassonne in southern France, near the Pyrenees, and is reported to have been on sale from about 1910. The other, sub-titled de Provence, was on sale at a pharmacy in Toulon, a Mediterranean port in the south-east and it has internal evidence showing that it was printed no earlier than 1921.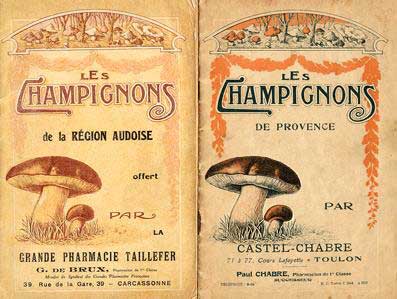 In the booklets of this style the two boletes that are immediately above the pharmacy name are embossed and so raised a little above the general level of the cover. Here is one of the panels from the chart in the back of the booklet from Angers. It shows the most dangerous mushrooms and at the upper left is Amanita phalloides, the Deathcap. The chart gives the common names for the different species and that is also done in the booklet's text, though the text also gives scientific names for some species.