The Gardens
Inspiring, informing and connecting people with the Australian flora
The Australian National Botanic Gardens maintains a scientific collection of native plants from all parts of Australia. The plants are displayed for the enjoyment and education of visitors and are used for research into plant classification and biology. A herbarium of preserved plant specimens is closely associated with the living collection.
The Gardens also cultivates plants threatened in the wild. This helps protect them against extinction and provides information which might assist reintroduction to their natural habitat.

Flowers, Fruits and Foliage
Discover what's fresh and flowering in the Gardens now with this information sheet highlighting the plants in the Gardens that are currently in bloom, or displaying noteworthy fruit or foliage. Information sheets are updated every two weeeks by the Friends of the Gardens and are available from the Visitor Centre.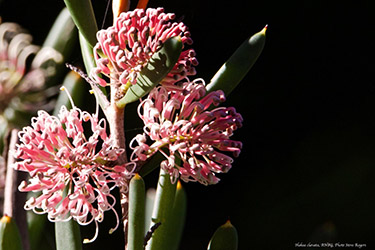 Coming Up
FLORA EXPLORER TOURS Discover the Gardens in relaxing style with a 45 min guided tour aboard our 13-seater electric bus | Sat, Sun and public holidays at 10.30 am and 1.30 pm | Book tickets in the Botanical Bookshop
BOTANICAL INSPIRATIONS An exhibition featuring paintings inspired by the Gardens, by artist Margaret Hadfield and some of her students | Until 16 June 9.30 am-4.30 pm daily
Pollen, a café featuring healthy, modern, wholesome food and relaxed dining experience at the Australian National Botanic Gardens. email:hello@pollencafe.com.au Bookings available via Pollen website
More information on these and other events and on how to make bookings is available at the Gardens' What's on page