Eucalyptus cunninghamii, Cliff Mallee Ash - a plant on the Gardens' Eucalypt Discovery Walk
Eucalypt Discovery Walk
Discover a selection of Australia's iconic eucalypts as you follow this self-guided walk
Wind your way through the gardens and discover 21 of Australia's iconic eucalypts on this self-guided walk which is supported by interpretation signs and a printed brochure.
Visit the Visitor Centre while in the Gardens to pick up a flyer and map of the walk.
Each of the featured trees has an attractive and informative sign describing key features of that species. The walk covers a distance of 1.8 km and will take around 1 hour.
Download the Eucalypt Discovery Walk flyer [pdf] [text version]
Additional information - Friends of the Australian National Botanic Gardens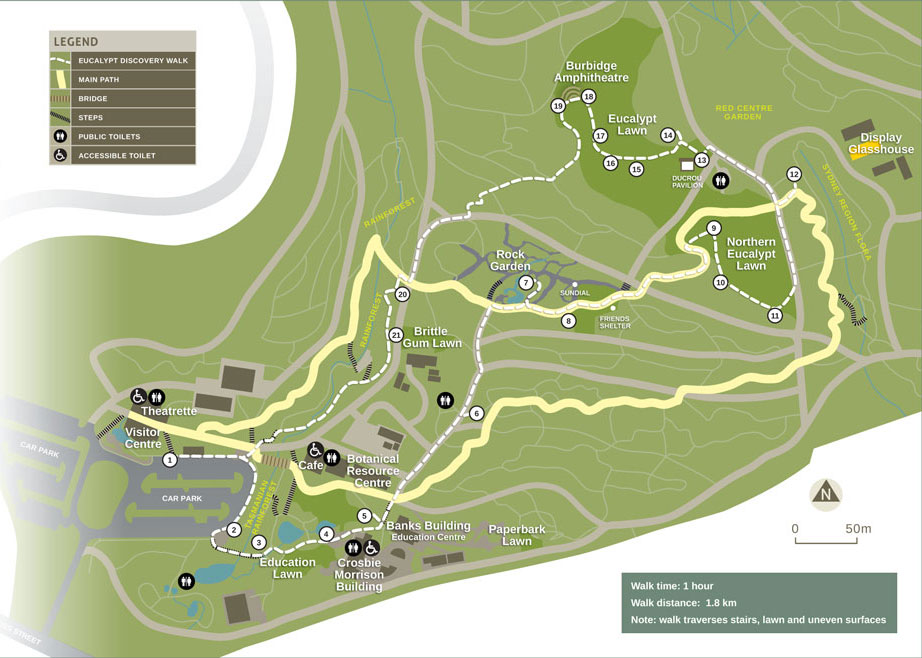 Development of the walk was a collaboration between the Friends of the Gardens and Gardens' staff. The project funding was provided by the Bjarne K Dahl Trust, an organisation committed to advancing the conservation of and education about eucalypts, and the Public Fund of the Friends of the Gardens.

The Eucalypt Discovery Walk was launched in 2013 in conjunction with Fascination of Plants Day held on 18 May each year.
^ top