What's on at the Australian National Botanic Gardens
News | In flower this week | Thursday talks | Holiday activities | Exhibitions | Walks
The Gardens host activites and events to suit all tastes, from our celebrated Summer Sounds concerts, to new and innovative workshops and exhibitions. And lots of outdoor fun for children and families.
---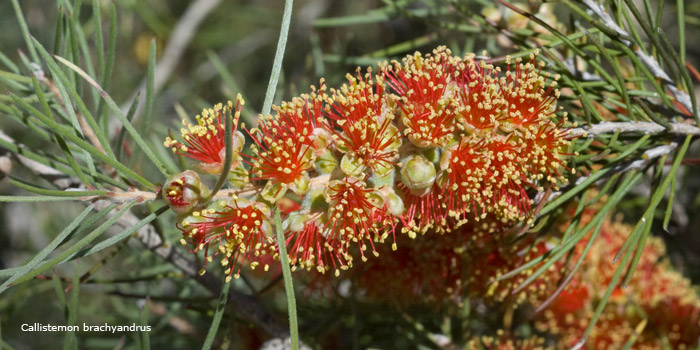 March in the Gardens
Download a flyer of what's on in the Gardens in March.
Image: Callistemon brachyandrus
---
Art in the Gardens with Friends
A collection of botanic art featuring Australian native plants. Many of the plants featured are in the ANBG collection. The majority of paintings will be for sale with a proportion of proceeds going to support Friends activitie.
When: Saturday 22 March to Monday 21 April, 2014
Time: 9:00 - 4:30 daily
Where: Visitor Centre Gallery
Chorizema cordatum by Kerrie Nogrady
---
Australian Native Plant Sale
Presented by the Australian Native Plant Society
Find the best range of many local species, suitable for Canberra's climate and soils, ideal for new or established gardens. Be early for best selection and bring a bag or box for your purchases.
When: Saturday 15 March
Time: 8.30 am - 2:00 pm or until sold out
Where: Southern car park, Australian National Botanic Gardens
Cost: $5.00 - $8.00 each
---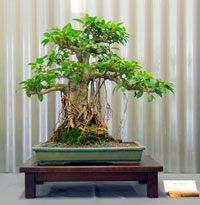 10th National Exhibition Australian Plants as Bonsai
Over 30 Australian plants as bonsai on display. Demonstrations at 2:00 pm daily to help you learn about growing and styling Australian plants as bonsai. This Exhibition is being held in conjunction with the 3rd Symposium on Australian Plants as Bonsai
When: Saturday 15 March and Sunday 16 March 2014 | 9:30am – 4:30pm | Demonstrations at 2pm
Where: Crosbie Morrison Building
Cost: Adult $4.00 | Concession $2.00 | Children (under 12 years) Free
---
Paper Crafts with Paperworks
Create beautifully handcrafted paper and cards through the medium of papermaking and other paper crafts.
When: 14 February - 11 April 2014 | 1.00 - 3.00 pm
Where: Glasshouse room | Banks Building
Cost: $180 for 9 weeks or $20 per session | plus $10 membership fee
Bookings: Essential as places are limited info@paperworks.org.au or call 0451 681978
---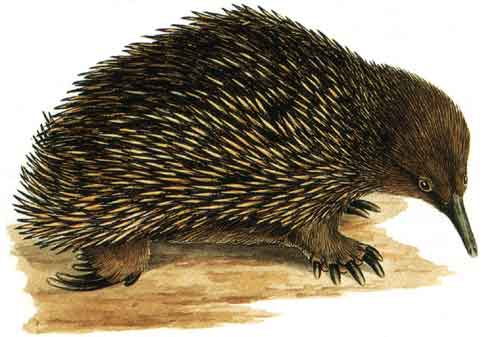 Bush Magic Storytime
Enjoy stories about animals that visit waterholes and a craft activity in the Gardens.
When: Friday 4 April | Storytime is on the first Friday each month
Time: 10 – 11 am
Where: Follow the signs from the Cafe or check in at the Visitor Centre for details on the day | Storytime will be held indoors during wet and cold weather
Cost: $5 per child | Suitable for pre-schoolers
Bookings: Not required
---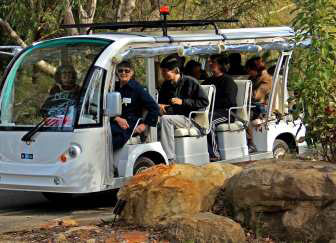 Flora Explorer Tours
Discover the Gardens in relaxing style in this one hour guided tour aboard a 12-seater electric bus.
When: Saturdays, Sundays, and Public Holidays | 1.00 pm
Where: Tours begin outside the Visitor Centre
Cost: $6.00 adult | $3.00 child under 16 and concession | Children under 3 ride free
Purchase tickets: At the Botanical Bookshop in the Visitor Centre | Booking information 6257 3302
---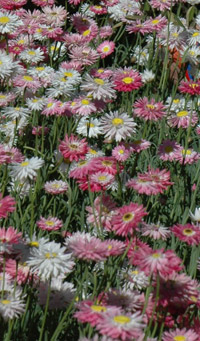 Thursday Talks 2014
A fascinating series of talks about Australian plants, plants of the world and special topics related to plants. Presented by the Friends of the Australian National Botanic Gardens.
When: Thursdays from February to November
Time: 12:30pm
Where: Theatrette
Cost: Gold coin donation to the Friends of the ANBG
---

Free Guided Walks
Free Guided Walks by the Friends Volunteer Guides
Daily at 11.00 am and 2.00 pm
Meet at the Visitor Centre
---

Friends Events and Activities
See Friends' Calendar for special events and activities organised by the Friends of the ANBG
---