Song Line of the Wiradjuri Scar Tree
"It has given me great pleasure to follow the song line of my ancestors. It is just as important to me as language, country, song and dance." Duncan Smith
Visitor Centre Gallery
Saturday 6th July – Sunday 25 August 2013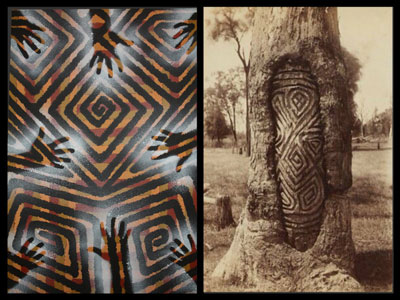 Duncan Smith, a Wiradjuri man from central western NSW and a well-known professional artist of traditional and contemporary art, explores traditional patterns from Scar Trees and transposes them onto canvas.
The exhibition also consists of black and white photos of the Scar Trees which were marked throughout Wiradjuri country. Most of these trees have been cut down over the last 100 years - some placed in major museums around Australia.
Scar Trees were very important to the Wiradjuri people. They marked significant areas such as grave sites, Abrora rings (places of initiation where boys became men and girls became women) , Corroboree grounds ( dance grounds) , meeting places , hunting grounds, significant water ground and borders of where tribes ended and started. Wiradjuri men would cut a shield, canoe or coolamon from the bark of the trees, and then carve into the remaining tree 'scar' with certain song lines (eg patterns and lines).
For Duncan, this has been an important opportunity as a Wiradjuri artist to highlight the beautiful carvings of his ancestors and this lost part of his culture. His desire is to educate future generations about the traditional Scar Trees so that they will be remembered well into the future.
By revealing this unique cultural heritage, it is hoped that Scar Trees currently stored in museum archives around the country will be brought forward for public exhibition as can been seen at the Bathurst museum.
Each painting is for sale and includes its accompanying photo.
| | | | | | | | |
| --- | --- | --- | --- | --- | --- | --- | --- |
| WHAT'S ON | VISITING | LIVING PLANTS | RESEARCH | PLANT INFORMATION | EDUCATION | ABOUT US | SUPPORT |
WHAT'S ON

VISITING

LIVING PLANTS

RESEARCH

PLANT INFORMATION

EDUCATION

SUPPORT

ABOUT US

HOME