Leptospermum laevigatum family MYRTACEAE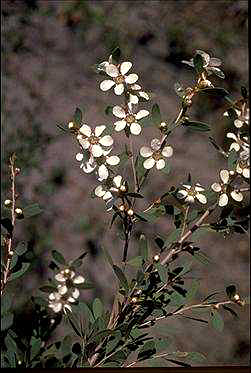 Coastal tea-tree
Tall, bushy shrub or small, twisted tree, to 6 m. Leaves are grey-green, obovate, to 2 cm. Flowers are white, to 1.5 cm diameter, in spring or early summer.
Distribution: coastal dunes of NSW, Vic, Tas, SA (naturalised in north-east NSW, south-east Qld and WA, where it has been introduced after sand mining).
Propagation From cuttings or seed. Seeds are not retained on the shrub.
Cultivation See note on genus. Excellent windbreak for salt spray. Very hardy plant, forming a good screen in most conditions. Has become a weed in South Africa.
Frost-hardy. (Plants given an this rating will tolerate frosts to -7°C in conditions of normal rainfall.)
Suitable hedge or screen plants.
Resistant to salt spray.
---
text from 'AUSTRALIAN NATIVE PLANTS, 4th ed'
by Wrigley & Fagg, Reed Books, 1996
---