Leptospermum petersonii family MYRTACEAE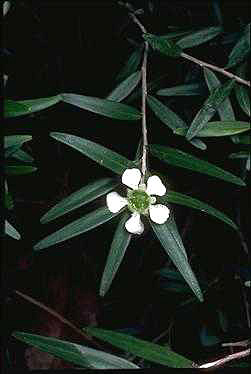 (Syn. L. citratum)
Lemon-scented tea-tree
Rounded shrub to 4 m high by 3 m across. Leaves are narrow-lanceolate, to 4 cm, and strongly lemon-scented. White flowers, 1.5 cm in diameter, occur in spring and early summer.
Distribution: Qld, NSW.
Propagation From seed or cuttings.
Cultivation See note on genus. Fast-growing screen plant. Slightly frost tender.
Recommended for their foliage.
Suitable hedge or screen plants.
Suitable for use in tropical areas.
---
text from 'AUSTRALIAN NATIVE PLANTS, 4th ed'
by Wrigley & Fagg, Reed Books, 1996
---