Leptospermum polygalifolium family MYRTACEAE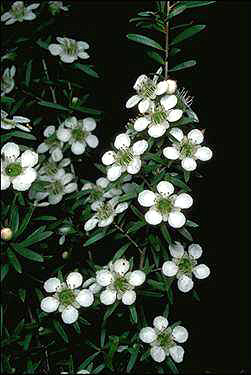 Variable, often rounded shrub 1—4 m high by 1—3 m across, with light green, oblong leaves to 5—20 mm long. Profuse white flowers, 1—2 cm in diameter, occur in late spring and summer. A semi-prostrate form is also in cultivation. It rarely exceeds 60 cm and spreads to 1.5 m. Six subspecies are now recognised, but some of these tend to merge into each other and no attempt is made here to describe the differences.
Distribution: NSW, Qld.
Propagation From seed or cuttings. Propagate from good forms.
Cultivation See note on genus. Variable in the amount of flowers produced. Superior forms make outstanding shrubs. The low-growing form is very useful as a large rockery plant. The 'Cardwell' form with weeping habit is a favourite for tropical and subtropical gardens and grows well in cooler climates. It is recognised as L. polygalifolium ssp. tropicum.
Frost-hardy. (Plants given an this rating will tolerate frosts to -7°C in conditions of normal rainfall.)
Some forms suitable for rockery plants that reach more than 50 cm high.
May be used as features.
Useful as cut flowers, foliage or fruits.
Suitable hedge or screen plants.
Suitable for use in tropical areas.
---
text from 'AUSTRALIAN NATIVE PLANTS, 4th ed'
by Wrigley & Fagg, Reed Books, 1996
---