Leptospermum scoparium family MYRTACEAE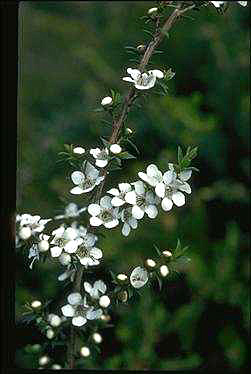 A usually compact shrub to 2 m high (often less) by 2 m wide. Leaves are variable in shape and size. They may be elliptical, broadly lanceolate or obovate and from 7 to 20 mm long. White flowers, occasionally tinged with pink and rarely red, 1 cm in diameter, occur in spring and early summer.
Distribution: NSW, Vic, Tas; also found in New Zealand.
Propagation From seed or cuttings. Cultivars must be cutting-grown to retain clonal properties.
Cultivation See note on genus. In New Zealand this species is commonly known as manuka and has been responsible for such popular cultivars as L. scoparium 'Lambethii', L. s. 'Red Damask', L. s. 'Scarlet Carnival', L. s. 'Pink Pearl', L. s. 'Ballerina' and many others. Australian forms have little to offer other than hardiness in most situations. Cultivars are highly ornamental but very prone to attack by webbing caterpillars.
Suitable for heavy shade.
Frost-hardy. (Plants given an this rating will tolerate frosts to -7°C in conditions of normal rainfall.)
Suitable hedge or screen plants.
---
text from 'AUSTRALIAN NATIVE PLANTS, 4th ed'
by Wrigley & Fagg, Reed Books, 1996
---