---


---
enlarge image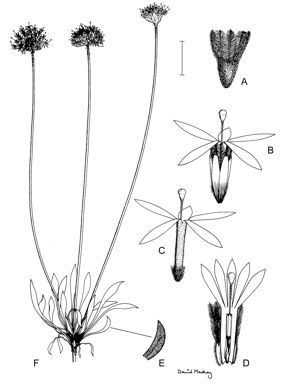 ©
Brunonia australis
Photographer: see Illustrator
Copyright holder: Other, see our image use page for details
Date Taken: 06 August 1992
Taken at:
Image Source: Australian Plant Image Index (APII) - Photo No.: foa.596

Caption: Brunonia australis . A , fruit surrounded by persistent sepals (W.Bauerlen, Oct. 1903, NSW); B , flower surrounded by bracts; C , flower with calyx lobes removed; D , dissected flower; E , leaf tip; F , habit (B-F , K.Williams 84217, NSW).Illustrators: D.Mackay
Flora of Australia Volume 35 (1992) figure 22.



---
---