---


---
enlarge image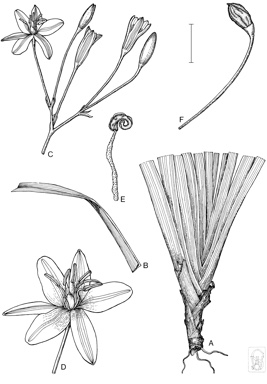 ©
Thelionema grande
Photographer: see Illustrator
Copyright holder: Other, see our image use page for details
Date Taken: 15 May 1987
Taken at:
Image Source: Australian Plant Image Index (APII) - Photo No.: foa.686

Caption: Thelionema grande . A , contracted stem showing fan-like arrangement of equitant leaf sheaths; B , junction of leaf sheath and lamina showing zone of occlusion (A-B , R.Henderson 2536, BRI); C , a pair of ultimate cymules; D , flower; E , papillose filament and anther after anthesis; F , young capsule before dehiscence (C-F , R.Henderson 2701, BRI).Illustrators: W.A.Smith.
Flora of Australia Volume 45 figure 72.



---
---