Jim Croft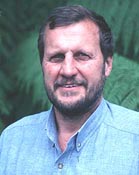 Nature will bear the closest inspection.
She invites us to lay our eye level with her smallest leaf,
and take an insect view of its plain.
- Henry David Thoreau, naturalist and author (1817-1862)
Jim Croft is Deputy Director Science and Information at the Australian National Botanic Gardens and the Program Leader for Australian National Herbarium at the Centre for Plant Biodiversity Research in Canberra, Australia. He is employed by Environment Australia, part of the Australian Government Department of Environment and Heritage.
A career of c. 15 years as a taxonomic botanist a the Papua New Guinea National Herbarium, working on the PNG flora, in particular tropical trees and pteridophytes, followed by 13 years at the Australian National Botanic Gardens, initially as Curator of the Herbarium, then as Director, Botany. A long standing interest in the taxonomy and distribution of the ferns and their allies and is curator of this group of plants at the Australian National Herbarium.
Professional interests at the moment include biodiversity informatics, biological information systems and standards in biological databases and in particular the use of digital technology in distributed and collaborative projects to harness scientific data and information and making it available to a wider user community. Projects and activities in this area include the developemnt of standards for the exchange of data between Australia botanical collections through HISCOM and the Virtual Australian Herbarium, the collaborative International Plant Names Index (IPNI) project, the Taxonomic Databases Working Group (TDWG) and the International Organization for Plant information (IOPI), and several national and international working groups in the management of biological data.
His interest in taxonomy and distribution of ferns and their allies is focused on Australia, New Guinea and the Solomon Islands, and the SW Pacific regions. This includes extensive field collections, especially in Papua New Guinea, the compilation of regional checklists, keys and descriptions of pteridophyte taxa and making this information available on the Internet (see, for example: Aquatic Pteridophytes of New Guinea and the ethnobotanical Ferns and Man in New Guinea.) Related projects include local surveys of ferns and ferns of conservation significance in Australia.
Some links:
Every creator painfully experiences the chasm between his inner vision and its ultimate expression.
-Isaac Bashevis Singer, writer, Nobel laureate, (1904-1991)