Leptospermum 'Horizontalis' family MYRTACEAE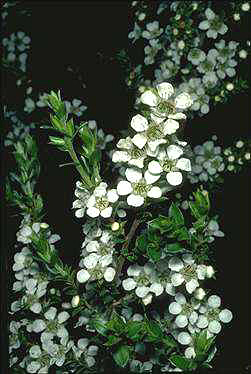 This cultivar is probably a form of L. continentale. It is a low-growing, spreading plant to 1 m high by 2 m across, and makes a hardy taller ground cover.
Ground covers for areas where some height is required.
Suitable for poorly drained areas.
Frost-hardy. (Plants given an this rating will tolerate frosts to -7°C in conditions of normal rainfall.)
Resistant to salt spray.
© Photograph, e-mail photo@anbg.gov.au for details.

---
text from 'AUSTRALIAN NATIVE PLANTS, 4th ed' by Wrigley & Fagg, Reed Books, 1996
---