The Gardens
Inspiring, informing and connecting people with the Australian flora
The Australian National Botanic Gardens maintains a scientific collection of native plants from all parts of Australia. The plants are displayed for the enjoyment and education of visitors and are used for research into plant classification and biology. A herbarium of preserved plant specimens is closely associated with the living collection.
The Gardens also cultivates plants threatened in the wild. This helps protect them against extinction and provides information which might assist reintroduction to their natural habitat.

IMB SUNSET CINEMA CANBERRA 2015

Running four nights a week, from Friday 13th November through to Saturday 19th December, with a broad range of films to suit everyone's tastes. IMB Bank Sunset Cinema is set in the serene surrounds of the Northern Eucalypt Lawn in the Australian National Botanic Gardens. Come along and enjoy cinema at its best - outdoors!
Commencing Friday 13 Nov | Gates open at 6:30pm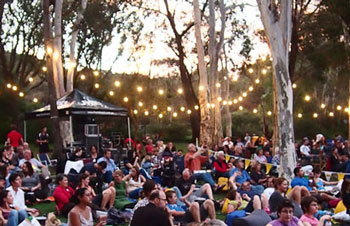 Coming Up
THURSDAY TALKS | Learn more about Australian native plants and other aspects of the natural world | Talks run by the Friends of the Gardens | 12.30pm Thursdays from 5 February to 26 November 2015
EAT LOCAL FRIDAY | Enjoy your weekly Farmers Market at the Gardens. Buy chemical and GMO-free produce directly from the growers and makers every week. - See more at: http://www.parksaustralia.gov.au/botanic-gardens/do/whats-on.html
Bookings and a full events listing available at the Gardens' What's on page