Leptospermum arachnoides family MYRTACEAE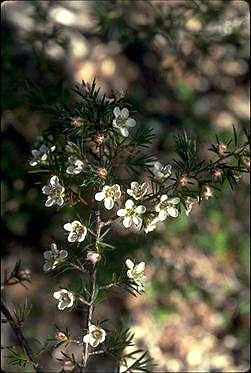 Low, spreading shrub to 1 m high by 1.5 m wide with flaky bark. Leaves are crowded, linear-lanceolate, to 2 cm long and pointed. Flowers are white, 8 mm in diameter, and occur in spring and early summer.
Distribution: NSW, Qld.
Propagation From seed or cuttings.
Cultivation See note on genus. Tolerates moderately wet conditions. Very hardy.
Suitable for poorly drained areas.
Suitable for heavy shade.
Frost-hardy. (Plants given an this rating will tolerate frosts to -7°C in conditions of normal rainfall.)
© Photograph, e-mail photo@anbg.gov.au for details.
---
text from 'AUSTRALIAN NATIVE PLANTS, 4th ed' by Wrigley & Fagg, Reed Books, 1996
---