Leptospermum deuense family MYRTACEAE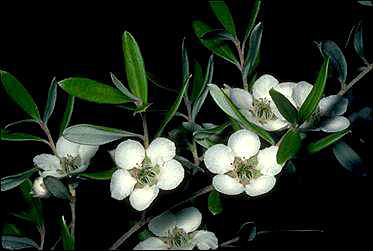 A dense, rounded shrub to 1.5 m high. The elliptical leaves are about 3 cm long and the white, beautifully formed flowers are 1.5 cm in diameter. They are seen mainly in summer.
Distribution: NSW.
Propagation From seed or cuttings.
Cultivation This rare plant is still not in common cultivation but it has proved hardy in Canberra. It is an outstanding ornamental and will eventually find its way into nurseries. Most soils and aspects appear to be suitable.
Frost-hardy. (Plants given an this rating will tolerate frosts to -7°C in conditions of normal rainfall.)
Recommended for their foliage.
May be used as features.
Conservation Status: 2RCa
---
text from 'AUSTRALIAN NATIVE PLANTS, 4th ed'
by Wrigley & Fagg, Reed Books, 1996
---