Leptospermum liversidgei family MYRTACEAE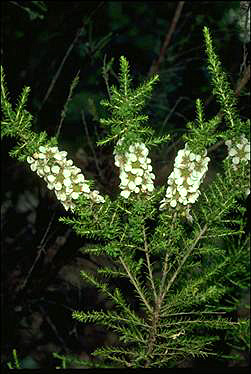 Erect shrub to 2 m high by 1 m wide with bright green, narrow leaves to 5 mm. Strongly lemon-scented. Bears small white flowers, rarely pink, 8 mm in diameter.
Distribution: NSW, Qld.
Propagation From seed or cuttings.
Cultivation See note on genus. Will survive badly drained conditions. Neat shrub. The pink form is available commercially.
Suitable for poorly drained areas.
Frost-hardy. (Plants given an this rating will tolerate frosts to -7°C in conditions of normal rainfall.)
Useful as cut flowers, foliage or fruits.
---
text from 'AUSTRALIAN NATIVE PLANTS, 4th ed'
by Wrigley & Fagg, Reed Books, 1996
---