Leptospermum luehmannii family MYRTACEAE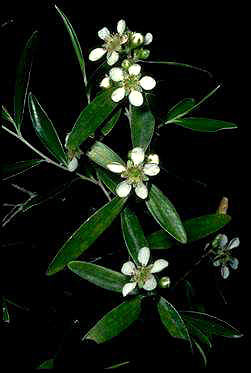 A tall, open shrub to 5 m with attractive light brown peeling bark. The shiny, elliptical leaves are up to 4 cm long. The white flowers are 1 cm in diameter and seen in summer.
Distribution: Qld - NSW border
Propagation From seed or cuttings.
Cultivation The beautiful trunks and branches of this species are its main feature. It requires a well-drained site in full sun.
May be used as features.
Attractive bark or trunk.
Suitable for use in tropical areas.
Conservation Status: 2RC-
---
text from 'AUSTRALIAN NATIVE PLANTS, 4th ed'
by Wrigley & Fagg, Reed Books, 1996
---