Leptospermum macrocarpum family MYRTACEAE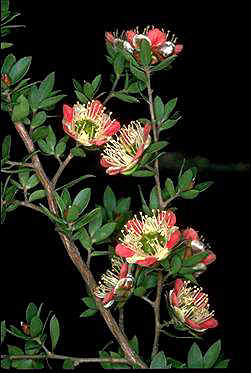 (Syn. L. lanigerum var. macrocarpum)
Scrambling plant, usually 1&endash;1.5 m high. Leaves are oblong, not hairy, to 2 cm. Flowers are white, pink or red, very large, 3 cm in diameter, with prominent green centres. They occur in summer and autumn. Fruits are large.
Distribution: NSW.
Propagation From seed or cuttings.
Cultivation See note on genus. Unusual shrub, well worth growing. Hardy. Suitable for rockery or between shrubs. Flowers and fruits are attractive.
Suitable for heavy shade.
Frost-hardy. (Plants given an this rating will tolerate frosts to -7°C in conditions of normal rainfall.)
Rockery plants that reach more than 50 cm high.
Has attractive fruits.
© Photograph, e-mail photo@anbg.gov.au for details.
---
text from 'AUSTRALIAN NATIVE PLANTS, 4th ed' by Wrigley & Fagg, Reed Books, 1996
---