Leptospermum madidum subsp. sativum family MYRTACEAE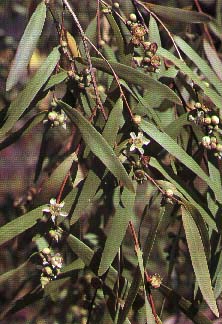 (often incorrectly sold as L. brachyandrum NT form)
Rounded shrub to 3 m by 3 m across with beautifully pendulous branches. Leaves are narrower than the type to about 5 cm long. Very small flowers.
Distribution: NT.
Propagation From seed or cuttings, which are difficult to strike.
Cultivation Excellent specimen plant for warm area. Will survive at least as far south as Coffs Harbour. Will tolerate most soils.
Recommended for its foliage.
May be used as features.
Suitable hedge or screen plants.
Attractive bark or trunk.
Suitable for use in tropical areas.
---
text from 'AUSTRALIAN NATIVE PLANTS, 4th ed'
by Wrigley & Fagg, Reed Books, 1996
---