Leptospermum nitidum family MYRTACEAE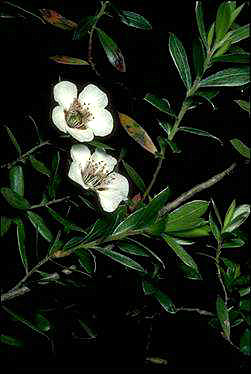 Rounded shrub to 2 m high (occasionally taller) by 2 m across. Leaves are narrow-elliptical to 2 cm. Flowers are white with green centres, to 1.5 cm diameter. Large fruits to 1 cm diameter.
Distribution: Tas.
This species is sometimes grown in the UK and Europe as L. grandiflorum or L. lanigerum var. grandiflorum. These names now apply to other species.
Propagation From seed or cuttings.
Cultivation See note on genus. Very hardy. Propagate from good forms. A cultivar with bronze-coloured foliage is sold as L. nitidum 'Copper Sheen' but it may well be a form of L. turbinatum, a closely related species from the mainland.
Suitable for heavy shade.
Frost-hardy. (Plants given an this rating will tolerate frosts to -7°C in conditions of normal rainfall.)
Recommended for their foliage.
Suitable hedge or screen plants.
---
text from 'AUSTRALIAN NATIVE PLANTS, 4th ed'
by Wrigley & Fagg, Reed Books, 1996
---