Leptospermum rotundifolium family MYRTACEAE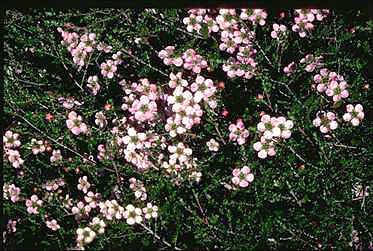 (Syn. L. scoparium var. rotundifolium)
Spreading shrub to 2 m high by 3 m across with shiny round leaves to 6 mm diameter. White to deep pink flowers, to 2.5 cm diameter, occur in spring and early summer.
Distribution: NSW.
Propagation From seed or cuttings. Propagate from good forms.
Cultivation See note on genus. This must be regarded as one of Australia's best Leptospermum sp. and one with great potential for hybridisation. A hardy plant. Selection should be made for large flowers, deep colour and profusion of flowers, as all factors are highly variable. Rapid growing, with neat foliage, it makes a fine screen or feature plant. Does not flower well in the subtropics or tropics.
Frost-hardy. (Plants given an this rating will tolerate frosts to -7°C in conditions of normal rainfall.)
Recommended for their foliage.
May be used as features.
Useful as cut flowers, foliage or fruits.
Suitable hedge or screen plants.
Resistant to salt spray.
---
text from 'AUSTRALIAN NATIVE PLANTS, 4th ed'
by Wrigley & Fagg, Reed Books, 1996
---