Leptospermum sericeum family MYRTACEAE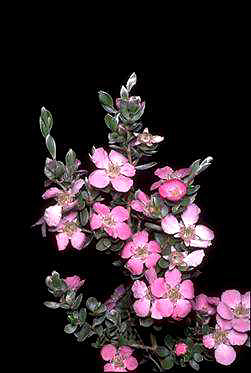 Rounded shrub to 2 m high by 1.5 m diameter with silvery-grey, obovate leaves to 1&endash;2 cm long. Pink flowers to 2 cm diameter occur in spring. A red form of this species was reported several years ago from the islands to the south of WA. The author has not seen this form in cultivation.
Distribution: WA.
Propagation From seed or cuttings.
Cultivation See note on genus. Probably the best of the WA Leptospermum spp. and a profuse flowerer. Requires excellent drainage and full sun. Does not flower well in the subtropics.
Frost-hardy. (Plants given an this rating will tolerate frosts to -7°C in conditions of normal rainfall.)
Recommended for their foliage.
May be used as features.
Resistant to salt spray.
Conservation Status: 2KC-
---
text from 'AUSTRALIAN NATIVE PLANTS, 4th ed'
by Wrigley & Fagg, Reed Books, 1996
---