Leptospermum speciosum family MYRTACEAE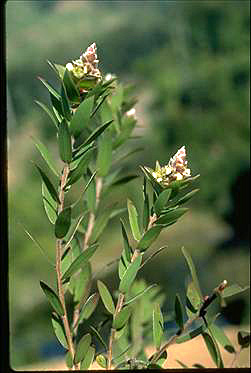 (Syn. Agonis scortechiniana)
Dense shrub to 2 m high by 3 m across. Broad-lanceolate leaves to 2.5 cm. Heads of small white flowers, very similar to an Agonis sp.
Distribution: Qld, NSW.
Propagation From seed or cuttings.
Cultivation Very easily cultivated. Accepts moderately damp conditions. Not showy, but useful screen plant. Frost tolerance not tested.
Suitable for poorly drained areas.
Recommended for their foliage.
Suitable hedge or screen plants.
Suitable for use in tropical areas.
---
text from 'AUSTRALIAN NATIVE PLANTS, 4th ed'
by Wrigley & Fagg, Reed Books, 1996
---