Leptospermum spectabile family MYRTACEAE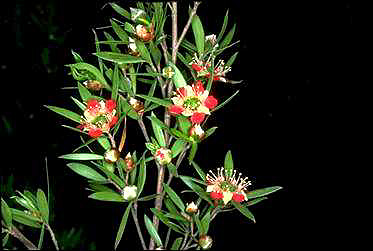 An erect shrub, 2-3 m high, with narrow-elliptical leaves to 3.5 cm long. The red flowers are 2 cm in diameter and seen in late spring.
Distribution: NSW.
Propagation From seed or cuttings.
Cultivation This rare plant is only in limited cultivation but has great potential for temperate areas. Foliage is neat and the large flowers are showy. It appears to be hardy in reasonably well-drained soil and a sunny position. It is also frost hardy. There is some doubt as to whether it will flower well in warmer climates. A cultivar using this species as a parent has been heavily promoted as L. 'Aphrodite'. It has large pink flowers. Unfortunately, it appears that this fine cultivar does not flower well in subtropical areas.
Recommended for their foliage.
Frost-hardy. (Plants given an this rating will tolerate frosts to -7°C in conditions of normal rainfall.)
May be used as features.
Conservation Status: 2RC-
---
text from 'AUSTRALIAN NATIVE PLANTS, 4th ed'
by Wrigley & Fagg, Reed Books, 1996
---