Leptospermum trinervium family MYRTACEAE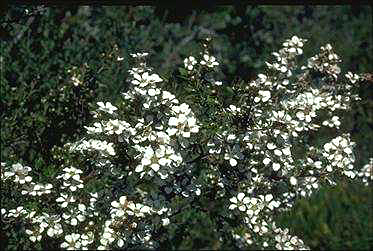 (Syn. L. stellatum, L. attenuatum)
Open shrub to 4 m high by 3 m across, with flaky papery bark. Leaves are light green, oblong to obovate, to 2 cm. Flowers are white, to 1.2 cm diameter, and occur in spring and other times of the year.
Distribution: Qld, NSW, Vic.
Propagation From seed or cuttings. Seed is not retained on the shrub.
Cultivation See note on genus. Hardy, but not showy. Interesting bark is its main feature. Birds use it for nest building
Frost-hardy. (Plants given an this rating will tolerate frosts to -7°C in conditions of normal rainfall.)
May attract birds.
Suitable hedge or screen plants.
Attractive bark or trunk.
---
text from 'AUSTRALIAN NATIVE PLANTS, 4th ed'
by Wrigley & Fagg, Reed Books, 1996
---