Christmas Island Botanical Postage Stamps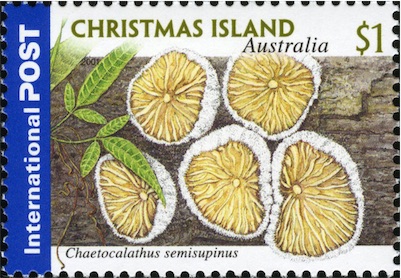 Date of issue: 25 October 2001
Illustrator: Celia Rosser
Printer: SNP Ausprint
Part of a series of two Christmas Island/Australia fungus stamps.
Fungus: Chaetocalathus semisupinus
Family: MARASMIACEAE


No common name
This is a pale, delicate, small stemless fungus that grows on the underside of rotting wood.
The top of the cap is attached to the wood, so that the gills face down. Here it is illustrated from beneath.
It is found throughout the Asian tropics.

---
---