Christmas Island Botanical Postage Stamps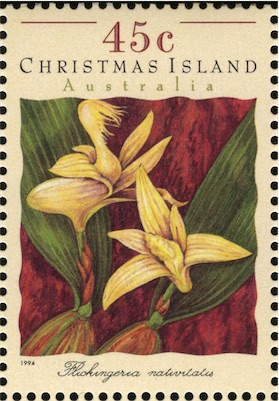 Date of issue: 16 August 1994
Designer: Celia Rosser
Printer: McPherson's Printing Group, Mulgrave
Part of a series of five stamps on indigenous orchids
Plant: Flickingeria nativitatis
Family: ORCHIDACEAE
No common name
Its specific name of this orchid comes from the Latin nativitas (birth), referring to the
birth of Christ, or Christmas, after its type locality.
It is common on the plateau and high terraces of Christmas Island where it grows mainly
as an epiphyte on Planchonella and Eugenia trees. It was thought to be endemic,
but it possibly also occurs in Java.

---
---