Christmas Island Botanical Postage Stamps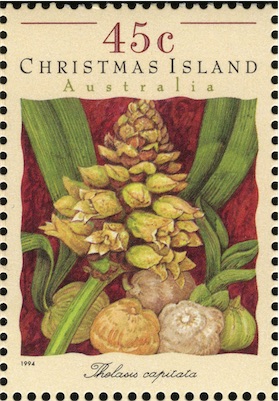 Date of issue: 16 August 1994
Designer: Celia Rosser
Printer: McPherson's Printing Group, Mulgrave
Part of a series of five stamps on indigenous orchids
Plant: Thelasis capitata
Family: ORCHIDACEAE
Conical Fly Orchid
This orchid with minute flowers is only seen on the plateau and Murray Hill on Christmas Island
although its range includes Java, Sumatra and Sabah.
The flower spike is fleshy and about 7-18 cm long with many crowded flowers.
It has pseudobulbs with a single leaf, and occurs on trees with a dense high canopy.
---
---