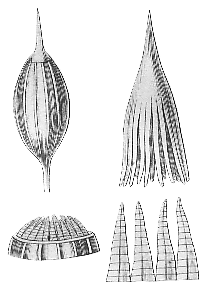 Drawings of Orthotrichum acutifolium, published by W.J. Hooker in 1824 in Volume 1 of the Edinburgh Journal of Science. The drawings are based on specimens collected in Tasmania and show a spore capsule still with the operculum attached (upper left), calyptra (upper right), capsule mouth (lower left) and a close view of some peristome teeth (lower right). The species is now known by the name Macromitrium longirostre.
History of Australian bryology
The pages under this heading literally present just episodes in the history of the study of Australian bryophytes. Nothing approaching a comprehensive history of Australian bryology has yet been published and these web-pages won't attempt to do so.
These pages will give you a good idea of how knowledge about Australian bryophytes has advanced. For the moment this account is very much an overview, largely confined to reporting major milestones, though you'll also see some missed opportunities. Many "lesser", though still significant. steps in adding to our knowledge are hidden in general summaries, rather than being reported in detail. That's especially the case when it comes to the last few decades

.
This historical account is given over two web-pages, which you can reach via the following links: