Systematics and Evolution (HA)
Taxonomy Research & Information Network (TRIN)

(CERF Project)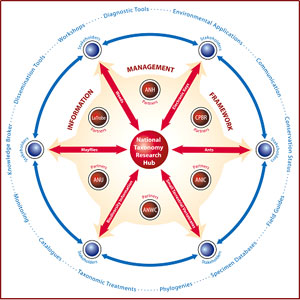 click to enlarge
Commonwealth Environment Research Facilites (CERF)
21 st Century Taxonomy: accelerating research and discovery of Australia's biodiversity
The CERF National Taxonomy Research Hub aims to enhance and accelerate taxonomic research and delivery of information on Australia's biodiversity, with broad goals to:
Reinvigorate taxonomy within Australia
Evaluate and road test new methodologies for research and delivery of taxonomic information for a wide range of end users
Create and maintain a modern collaborative national electronic framework for taxonomic knowledge delivery.
The framework and methodology of this hub will increase the rate of description, documentation and understanding of Australian life, the rate of populating the national biodiversity knowledge base, the quality and quantity of Australia's biodiversity data assets, and the ease of access to and dissemination of this information to end users.
The projects and activities of this hub will build an information base with coverage, depth, breadth and authority to underpin activities in complex and diverse research, policy and management areas related to Australia's environmental assets, supported by sound taxonomy and biodiversity information management.
Integrated portfolios of research and informatiom management approaches aim to enhance the state of taxonomic knowledge of the Australian biota over the 3-year duration of this CERF hub. The primary focus is to address gaps in taxonomic knowledge of the Australian biota and to build taxonomic capacity, lack of which hinders Australia's ability to manage the environment effectively.
Emphasis has been placed on significant, iconic and biodiverse groups which have not been tackled taxonomically. The portfolio of proposed research projects aim to:
Significantly increase taxonomic knowledge of biological groups of environmental significance,
Build taxonomic capacity for Australia in critical subject areas currently lacking expertise,
Develop and enhance national collaborative research arrangements in Australia,
Deliver results/outputs which enable applied use of taxonomic information, and further taxonomic understanding of the target group
Result in beneficial outcomes, outputs, products and services for end users,
Provide widely and freely available web-based information in a collaborative manner, using progressive technologies and persistent data-stores to avoid the need to repeat data collection,
Require different taxonomic, systematic, methodological and technical approaches, from basic documentation and alpha taxonomy to the cutting edge of modern systematics,
Deliver results in appropriate formats and methodologies for the diversity of end user requirements,
Enable evaluation of innovative web-based systems delivering new science to key environmental end users,
Address the lack of taxonomic knowledge of large, diverse and poorly known groups that have proven difficult to address with past funding; these groups will benefit greatly from development of an on-going information framework that can be progressively enhanced.
Following these objectives, the target groups are: Ants, Mayflies and other aquatic macroinvertebrates, WONS (Weeds of National Significance), Small Terrestrial Vertebrates.
The major component for the CPBR will be:
WONS (Weeds of National Significance) – selected species complexes; basic alpha taxonomy supplemented with genome and molecular evolution; management of major environmental costs lack scientific basis
See Lantana project web page
The research will explore effective and innovative data management and data delivery mechanisms, through engagement and partnership with national and international biodiversity standards and biodiversity information management technology activities of groups such as the Council of Heads of Australian Herbaria (CHAH), the Council of Head of Australia Fauna Collections (CHAFC).
The taxonomy hub will establish and maintain a robust biodiversity information management framework based on developing national and international data standards and technologies. This will include taxonomic frameworks to access data, alternative pathways to data, and on-line systems for biodiversity identification. These technologies will be used to provide integrated and transparent access to biodiversity resource and research data, analyses and results in formats and presentation for a wide range of end users.

Visit the National Research & Information Network (TRIN) website