Celebrating the Centenary of Federation
Franklin Mint Floral Emblem Plate
January 1st, 1901, the birth of a new national - the Commonwealth of Australia - six sovereign States federate for the common good. Today we look with pride on those early years and a country ready to take its place amongst the nations of the world. And it is with the same pride that Franklin Mint announces this collector plate - Australianis Bouquet to commemorate the Centenary of Federation.
An heirloom collector plate portraying the floral emblems of the six States of Australia in 1901, Beverley Graham captures the beautiful flora with fine detail, the Waratah, Common Health (Pink Heath), Cooktown Orchid, Blue Gum, Mangles' Kangaroo Paw and Sturt's Desert Pea, all brought to life and interlaced with the beautiful Golden Wattle, - the floral emblem of Australia.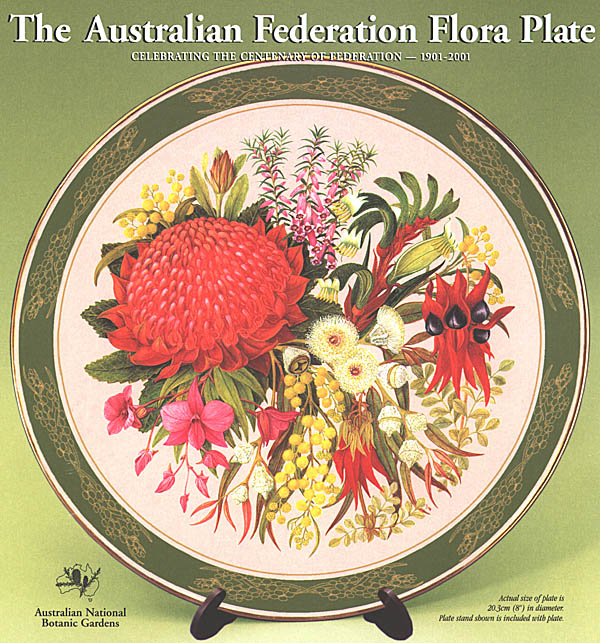 A work of art, created by award-winning botanical artist Beverley Graham, winner of many Wildlife Art Society of Australasia Awards. Made of Fine Bone China by Royal Doulton. Each plate bears the artist's signature mark and the emblem of the Australian National Botanic Gardens on the reverse side.
Australianis Bouquet will be available only until 21st December 2001, and exclusively from Franklin Mint. Furthermore, each beautiful collector plate will be accompanied by a Certificate of Authenticity signed by the Director of the Australian National Botanic Gardens and comes complete with its own stand, ready to display.
For further details contact Franklin Mint at:
Website: http://www.franklinmint.com/index.aspx?
Email: http://www.franklinmint.com/contact.aspx
NOTE: no sales or marketing from the Australian National Botanic Gardens.