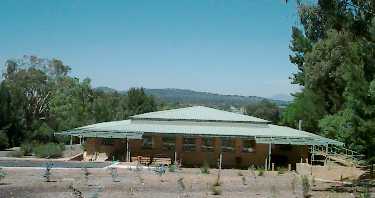 Franklin Building
The Franklin Building at the Australian National Botanic Gardens was built in 1990 to house the newly-established Environment Resources Information Network (ERIN) and was initially referred to as the ERIN Building. From 1992 it housed the Australian Biological Resources Survey (ABRS), which publishes the Flora of Australia and the Fauna of Australia as well as a range of other publishing and grant-giving activities.
In the early 1990s the building was named the Franklin Building in honour of Sir John Franklin and his wife Lady Jane Franklin, both of whom fostered scientific endeavour in Australia during their residence in Tasmania from 1837-1843.
The link with Tasmania is significant as the Franklin Building is adjacent to two of the Tasmanian flora sections in the Botanic Gardens.
There is a second, less significant but interesting link, in that the logo of the ABRS incorporated a stylised representation of a platypus which the staff had nicknamed "Franklin" in the early 1980s when the proposed damming of the Franklin River in Tasmania (also named for Sir John) was a controversial conservation issue.
ABRS staff vacated the Franklin Building in 2014 and the space was made available for commercial rental.