Goodia lotifolia
Golden Tip, Clover Bush, Yellow Pea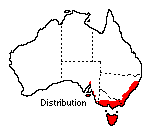 This tall pea-flowering shrub grows wild in many parts of Australia and has various common names, such as Golden Tip, Clover Bush and Yellow Pea. Where an easy and quick grower is wanted this is a most attractive choice with several uses. Given plenty of room it makes a beautiful specimen plant, well set on a lawn and hardy enough for decorating public grounds. It hides a fence quickly and may be lightly trimmed to form a tall, loose hedge. It is quite frost hardy, though slightly deciduous in the coldest districts. It is very hardy to drought in the sense that although it loses wood in years of extreme drought it renews itself by long suckering branches when watered again, gradually forming a thicket-like shrub with strong whippy branches arching and curving to ground level. With attention to cutting out dead or bare wood a specimen may be kept in good condition for many years. Within a few years it reaches at least 3 m high with a similar spread, in garden conditions.

All parts are smooth and the foliage is a fresh green, at some seasons blue-green, with a bloom. Around mid-summer, if water has not been scarce, the appearance is lush with new tip growth. Individual leaves are trifoliate resembling clover. From early October the shrub is covered in clear yellow pea flowers in short loose spikes. They continue for several weeks in a cool spring but a hot spell such as often occurs during October or November shortens the season.
Large quantities of seed are set after flowering, making this an easy and cheap species to raise as the seed germinates freely. The small dark pods can be heard cracking open during summer and sometimes self-sown seedlings appear. Young plants may be bought from some nurseries and thrive in almost any soil without preparation in a sunny or lightly shaded position.
Flowers do not last well in water, but the graceful sprays of leaves are useful and long stems may be used to fill in large arrangements. The plant is so vigorous that it is unusual for it to be set back in any way by pests or diseases. Scale is the only trouble noticed and by cutting out affected branches when it is seen the use of chemicals is avoided. It should be mentioned that the leaves of Goodia lotifolia are suspected to be poisonous to stock.
Based on text by Irene Beeton (1971)

Name meaning: Goodia lotifolia
Goodia-after Peter Good, an English gardner who travelled with Robert Brown to collect and care for plants; he died in Sydney in 1803;
lotifolia-leaves like the Lotus.