Melaleuca incana
Grey Honey Myrtle
This weeping shrub with foliage tinted blue-green or grey attracts admiration whenever seen. It is the Grey Honey Myrtle of south-west Australia, an easy subject for the beginner in growing native plants or for any gardener looking for an unusual and useful addition to the garden.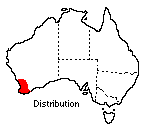 It grows rapidly to about 2 m high and wide at five years old, with compact soft growth to ground level, its weeping tips waving in the breeze. Eventual height is at least 3 m though size and shape can be determined by pruning. It has a naturally dense frame of thin branches from the base and when established resists drought well though adequate water brings lusher growth. Specimens exposed to drought associated with strong winds have been seen in poor condition. The species is hardy to cold, and only in winters of unusually hard frosts has slight chilling been noticed in the foliage. Leaves are narrow, 1.5 cm long, and like the young stems are covered with transparent hairs which are enhanced by cold. These give the hoary appearance which is less apparent in summer. Foliage tints change with the seasons, and pale green is added to the grey with new tips in spring and autumn. These turn pinkish with the first May frosts and deepen to purple as winter advances, especially in open situations.
The beautiful yellow brush-like flowers are up to 2.5 cm long, soft and graceful like the foliage. They open towards the end of October for three to four weeks and are profuse in a good year. If water has been scarce in preceding months flowering is sparse and brief, but the home gardener can guard against this. Small woody seed capsules follow and remain on the shrub some years, yielding plentiful seed for easy propagation. Plants may also be raised from cuttings if necessary, using 5-8 cm of stem tips.
Most nurseries stock this species, and most soils are suitable, especially lighter ones. It must not dry out while young, and it is liable to wind-rocking while a single stemmed young plant. Among its many uses are as a thick, trimmed hedge; to hide a fence; or grouped in public grounds. Pruning and decorating may be combined as both flowers and foliage are pleasant and easy to arrange, lasting well in water even as long sprays. An established plant may be cut freely. Occasional white scale is the only pest noticed and this may be controlled by white oil sprays. White oil, however, should not be used when temperatures exceed 30o celsius. Several applications are usually necessary for a complete kill.
Based on text by Irene Beeton (1971)

Name meaning: Melaleuca incana
Melaleuca - from two Greek words, melas, black and leukos, white, because the first Melaleuca described had white branches against a black trunk possible blackened by fire; another opinion contrasts the white bark with the very dark foliage of some species;
incana - hoary or white; referring to the grey foliage