Astartea fascicularis
False Baeckea
Astartea fascicularis (Labill.) DC.
The False Baeckea (Astartea fascicularis) is an easy-to-grow Western Australian medium shrub of the tea tree family. It has a neat and fresh appearance throughout the year and flowers during most months except those of extreme heat or cold. In habit it may be upright or spreading with an open framework of slender tapering branches. The plant can reach a height of 1 m with a spread of 1.5 m at 3 years old. It is a plant which will withstand frost, drought and wind although in harsh situations it tends to become a stiff shrub with a few main branches. In a more sheltered site with good watering, growth becomes softer and more dense with graceful branches arching to cover the ground. In these more favourable circumstances it can grow to a height of 1.5 m with a spread of up to 2.5 m at about 4 years old.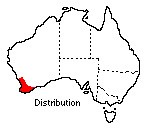 Main branches are set with short lateral stems pointing upward. Clusters of small narrow leaves - also pointing upward - along the stems give an effect of spires. The waxy leaves are about 1 cm long and, like the pinkish stems, have a spicy scent when bruised.
Each lateral produces up to eight buds which open to small, flat flowers like those of any tea tree. The flowers are 1 cm across with five rounded white or pale pink petals, often tinged with a deeper pink at the base, and a green eye.All are arranged facing upwards along the stems in dainty sprays. Flowering is profuse in spring and autumn. At other times in response to rain or watering, flowers are usually dotted about the shrub.
Planting should be done in lime-free soil in either an open or shaded location. The plant grows at a medium rate and flowers while young. Dense growth can be encouraged by pruning, which will also control the shape of the shrub. Pruning can be performed at any time of the year and the stems used as cut flowers. As well as being a valuable specimen shrub, Astartea will succeed as a low hedge plant if trimmed from early years and watered well to produce bushy growth. The plant is more suited to an informal than a formal hedge and when used for this purpose should be spaced about 1 m apart.
Astartea fascicularis is available from some nurseries which specialise in native plants. It is raised from cuttings. The baeckea referred to in the common name of this plant is a genus of Australian native plants.
Based on text by ANBG staff (1972)
Name meaning: Astartea fascicularis
Astartea after Astarte, a Phoenicean goddess, and possibly also referring to the starry flowers
fascicularis - in bundles or clusters, referring to the leaves.