Callistemon phoeniceus
Some herbaria use the name Melaleuca phoenicea
Scarlet Bottlebrush
Callistemon phoeniceus Lindl.
Melaleuca phoenicea (Lindl.) Craven
There are only two Callistemon species included in the spectacular flora of Western Australia - Callistemon glaucus and C. phoeniceus. The latter is commonly known as Scarlet Bottlebrush, Fiery Bottlebrush or Lesser Bottlebrush.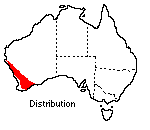 In Western Australia, C. phoeniceus occurs naturally in depressions and along watercourses extending from the Swan River to the Murchison River with its eastern limits in the Norseman area.
In the Australian National Botanic Gardens it forms a large bushy shrub to 3 m high with a spread of about 2 m. The rich scarlet flower brushes, 10 - 15 cm long, are dark tipped and borne terminally on the slender stems. The flowering period is in November and December with a second flowering in late summer if conditions are favourable. This species does not appear to set much seed in Canberra. The narrow leaves, 3 - 7cm long, are thick and rigid, tipped with a short spine. Their blue-green colour provides a striking contrast to the brilliant coloration of the flowers.
In cultivation, C. phoeniceus is fairly vigorous in its growth habit and will grow in any soil provided ample moisture is available. An open sunny position is preferable and it is tolerant of moist conditions. The plant benefits from light pruning, particularly in the early stages, and this should consist of general shaping and removal of spent flower heads. An application of a complete fertiliser in early spring will encourage new growth. Propagation is from seed or tip cuttings using new season's growth.
Callistemon phoeniceus is not affected by frost and no pests have been noted in the Gardens. This is a very attractive shrub that is hardy and easily grown.
Text by E Mullins (1979)
Name meaning: Callistemon phoeniceus
Callistemon - from two Greek words meaning beautiful stamens; phoeniceus, from the Greek,
phoeniceos - meaning purple-red.